Whitepaper
Maximize Your SIEM with Precise Active Directory Security Details
Play to your strengths.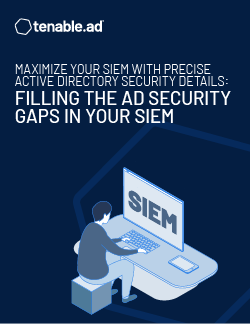 There's a hacker-shaped hole in your SIEM. Stopping AD compromise begins with weeding out the root causes: lateral movement + privilege escalation. Get the guide to help fill the gaps in your SIEM.
Where SIEMs succeed (and fail)
SIEM customization, correlation, and false positives
The risks of agent- and privilege-based solutions
Start reading the free guide.
Tenable Identity Exposure