Whitepaper
Guidance - CISA / NSA Alert AA20-205A for OT Systems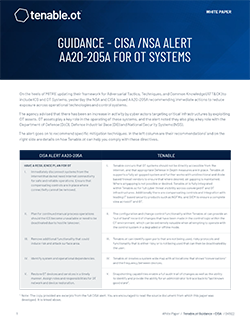 On July 24, 2020 the NSA and CISA issued AA20-205A recommending immediate actions to reduce exposure across operational technologies and control systems.
The agency advised that there has been an increase in activity by cyber actors targeting critical infrastructures by exploiting OT assets. OT assets play a key role in the operating of these systems, and the alert noted they also play a key role with the Department of Defense (DoD), Defense Industrial Base (DIB) and National Security Systems (NSS). 
The alert goes on to recommend specific mitigation techniques. Download this document which outlines the specifics of the alert and how Tenable.ot can help you comply with these directives.