Whitepaper
Active Directory Security Risk: How High Is Your Risk?
Do you know your exposure to Active Directory risk? Can you put an actual number on it?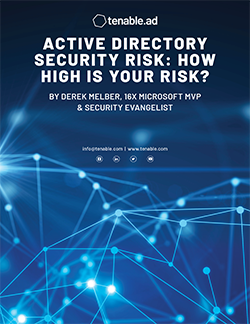 Most have no clear AD exposure metrics, and many have spent too much time building risk models that go unused.
With all the cybersecurity madness over the past months, authorities in the US and EU are resetting the game, increasingly asserting that if you don't know how secure you are, you're still accountable. This is a giant leap forward in accountability when it comes to cybersecurity and required disclosures.
It's time for a data-based hard look at your AD security risk exposure. Download this free guide to assess it!
Tenable Identity Exposure