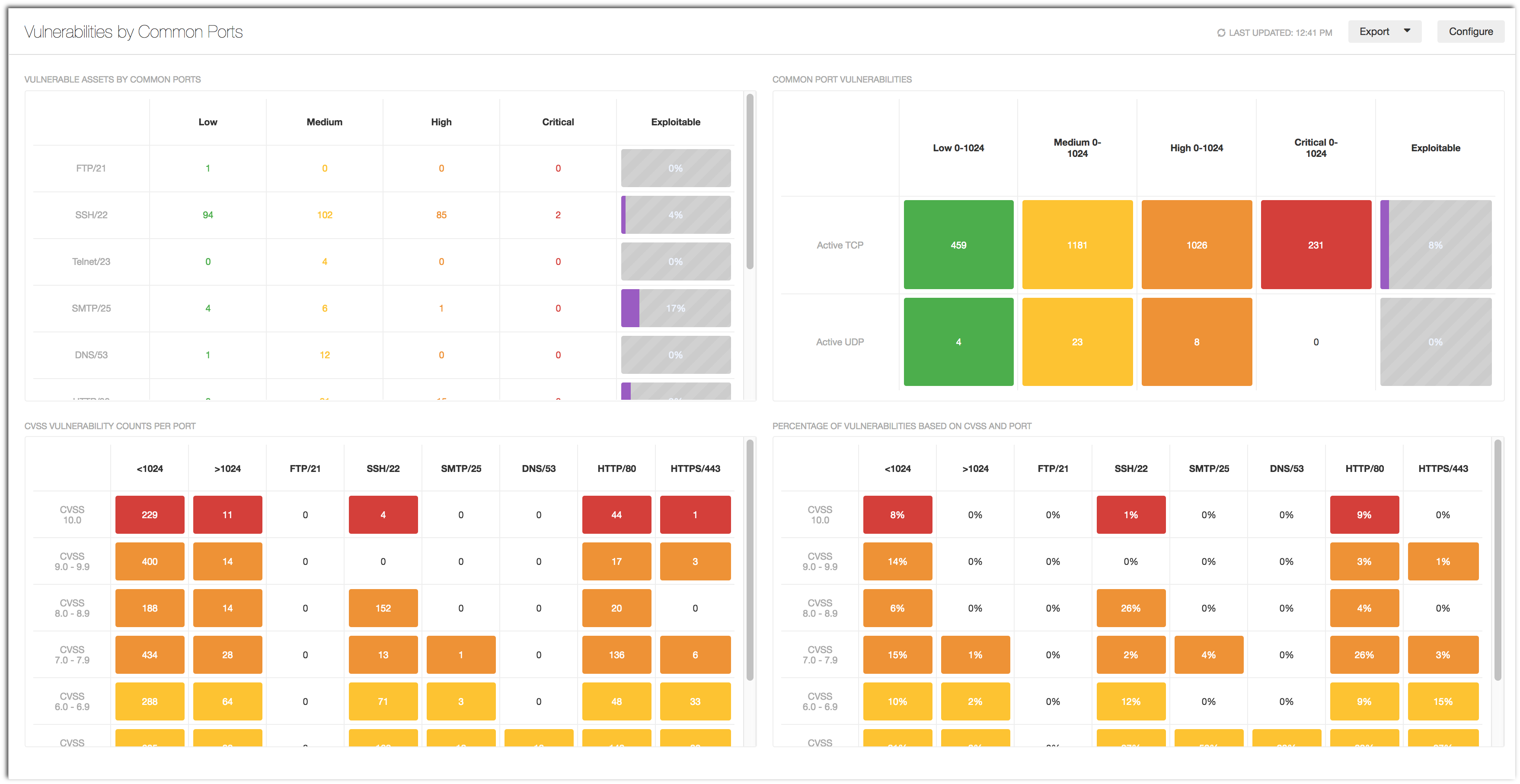 Vulnerable services may allow malicious actors to infiltrate the network, compromise assets, and exfiltrate information. Addressing vulnerable services is a key step in reducing network risk. This dashboard identifies active vulnerabilities by the network ports, allowing analysts to expedite risk mitigation activities.
The modern attack surface is largely comprised of services listening on network ports that can be exploited by an external attacker. An attacker can access user data, intercept traffic, or take control of company assets through some of these vulnerabilities. Mitigating these vulnerabilities is a critical part of the Cyber Exposure management life cycle and the reduction of cyber risk.
An important note about these vulnerabilities is that they often do not require user access for an external attacker to discover. Methods for detecting these vulnerabilities are often published throughout the cybersecurity and hacker communities alike. Tenable.io empowers administrators to discover vulnerabilities before they become known by an external threat.
The vulnerabilities presented with a critical severity often represent privilege escalation or system control attacks. The best course of action when approaching these vulnerabilities is to mitigate them by severity rather than number of assets affected. Mitigating higher severity vulnerabilities first is a great way to eliminate any risk to the most sensitive assets in an environment. This dashboard focuses on helping analysts and administrators to perform that task quickly and efficiently. 
Cyber Exposure helps analysts drive a new level of dialogue with the business. By knowing which areas of the business are secure or exposed, analysts can effectively measure the organization's cyber risk. Analysts can use the metrics provided by Tenable.io to determine how much and where to invest in order to reduce risk to an acceptable amount. Tenable.io is the first Cyber Exposure solution that provides key risk metrics that organizations need to measure risk exposure.
Components:
VULNERABLE ASSETS BY COMMON PORTS: Because thousands of assets often have commonly open ports for normal business use, they become the easiest target for attack. This component lists the assets that have vulnerabilities on commonly known ports. This data can be used to gauge how many assets are at risk across an organization, and, if those assets have similar vulnerabilities. This allows for the easiest mitigating effort for the greatest reward.
COMMON PORT VULNERABILITIES: Commonly known ports are the first place that a malicious entity looks to see if they can gain access to sensitive company data. This component lists those commonly known ports and then associates any vulnerabilities found for ease of reference. Mitigating these vulnerabilities reduces risk from the first place attackers approach.
CVSS VULNERABILITY COUNTS PER PORT: Vulnerabilities with CVSS scores are publicly known quantities with documented exploits and remediations. This component lists out each network port with found vulnerabilities and then counts the number of vulnerabilities found that have CVSS scores. Mitigating these vulnerabilities reduces the risk from exploits that are well documented and easily attainable.
PERCENTAGE OF VULNERABILITIES BASED ON CVSS AND PORT: Not all vulnerabilities that can be exploited have CVSS scoring. However, they can still pose a risk to an organization. This component gives a percentage value of vulnerabilities found that have CVSS scores and lists them by the port on which they were found. This information can be used by analysts who then independently search for vulnerability fixes that are not listed in the CVSS database.