Security Assurance
Define success. Identify risks. Measure program effectiveness.
Cybersecurity is a critical priority for organizations today. Business and IT executives want to know how their IT teams measure and report on the effectiveness of their security programs – why security investments are being made and how those investments support the overall health of the business.
Learn About Security Assurance   ▶
Tenable SecurityCenter Continuous View® (SecurityCenter CV™) gives you the ability to create meaningful security metrics that map directly to business goals. Armed with this relevant data, you can provide business and IT leaders with:
Unparalleled visibility into the organization's security posture
Assurance that all security mandates, company policies and industry regulations are being effectively measured
Confirmation and confidence that security investments are effective and support business initiatives
Get the Solution Story
Learn how Tenable SecurityCenter CV helps you measure security effectiveness by aligning security metrics with business goals.
Take a Metrics-Based Approach to Measuring Your Security Programs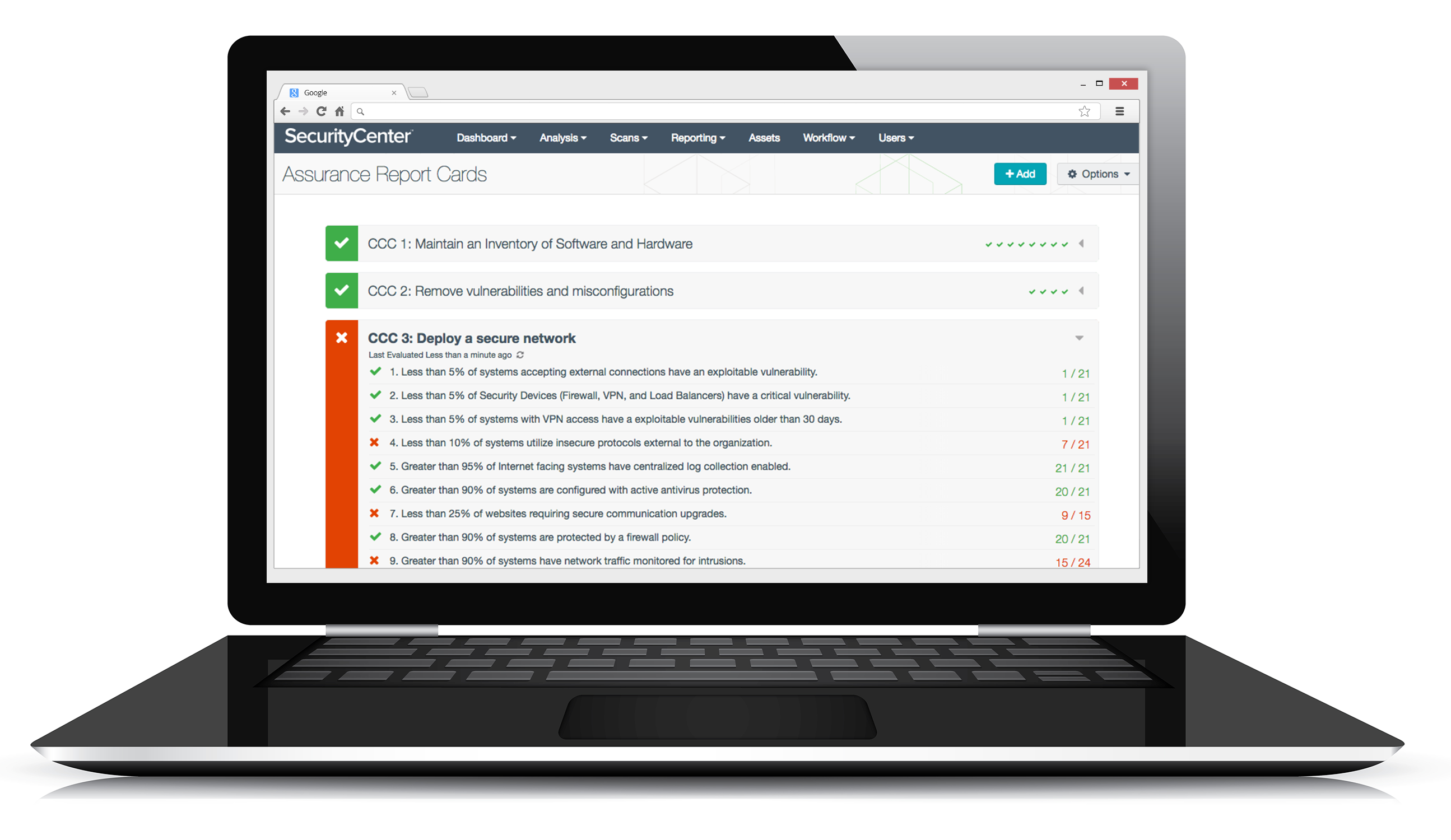 SecurityCenter Continuous View delivers the information you need to continuously adapt and improve your security posture to protect your organization. It collects data from multiple sensors to provide an advanced analysis of vulnerability, threat, network traffic and event information and deliver a continuous view of IT security across your environment. Using pre-built, highly customizable dashboards and reports and the industry's only Assurance Report Cards® (ARCs), you can visualize, measure and analyze the effectiveness of your security program – and simplify how you demonstrate security assurance.
Clear Business Insights
ARCs map security metrics to business objectives. Pre-built ARCs align with industry standards like the NIST Cybersecurity framework, making it easy to communicate security and compliance requirements to the business in terms and language they understand.
Improved Communication
Report cards display the effectiveness of security programs and investments, making it easy to show progress and identify gaps to business and technical executives.
Reliable Metrics
A unique combination of active scanning, agent scanning, host data monitoring, integrations with third-party systems and continuous listening ensures you have trusted data to measure security and compliance for your entire infrastructure.
Continuous Visibility
Integration of security data from patch management, mobile device management and other key security systems provides a complete, real-time view of security effectiveness across the enterprise.
Learn More
"Cyber attacks cost businesses $400 billion a year, including the damage itself and subsequent disruption to the normal course of business."
Inga Beale, CEO, Lloyd's
Fortune, Jan. 23, 2015