Solution Overview
Tenable.ot Vulnerability Management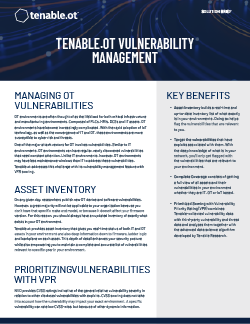 OT environments are often thought of as the lifeblood for both critical infrastructure and manufacturing environments.
One of the major attack vectors for OT involves vulnerabilities. OT environments can have regular, newly discovered vulnerabilities that need constant attention. Unlike IT environments, however, OT environments may have less maintenance windows than IT to address these vulnerabilities.
Download this solution brief to learn how Tenable.ot addresses this challenge with its vulnerability management feature with VPR scoring.
Vulnerability Management
IT/OT