Solution Overview
How to Evolve Your Legacy VM Practice to a Risk-based VM Program - Step Three: Prioritize
Is your team buried in vulnerability data? This step-by-step guide shows you how to prioritize the risks that matter most.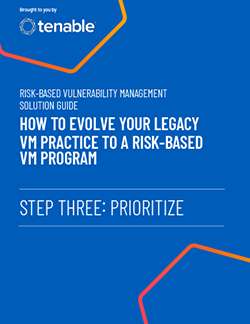 Prioritization is the cornerstone of any successful risk-based vulnerability management program. Without it, security teams quickly become overwhelmed with data and often waste time on vulnerabilities that don't pose an immediate risk.
In the third of our five-part risk-based VM Solution Guide, we provide step-by-step instructions on the "Prioritize" stage of the risk-based VM lifecycle to ensure that your team is making the best use of your limited resources. Learn how Tenable's machine learning technology can help you predict the business risk of every vulnerability based on continuously updated severity and asset criticality metrics.
Risk-based Vulnerability Management
Tenable Lumin
Tenable Vulnerability Management
Tenable Security Center
Tenable Security Center Plus
Download Risk-based VM Solution Guide