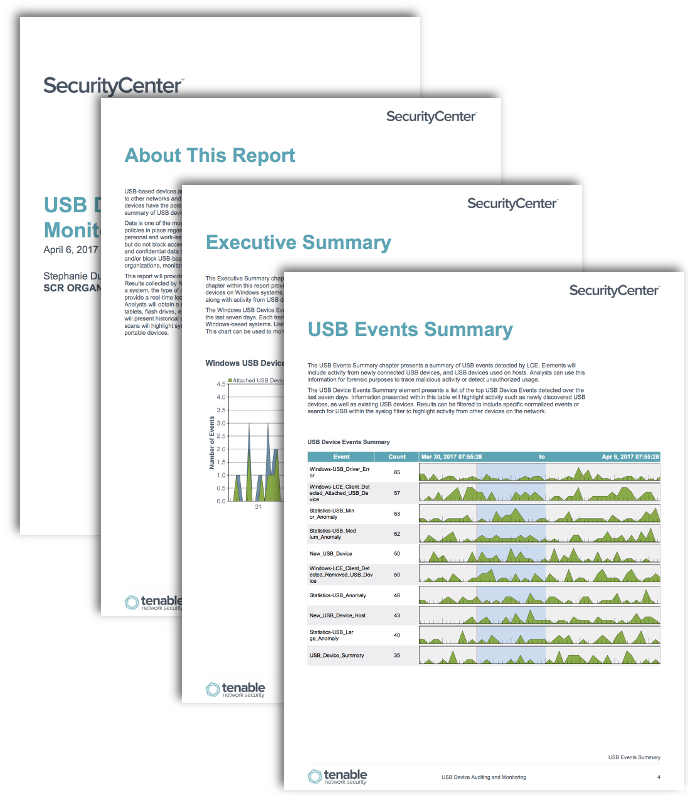 USB-based devices are commonly used within organizations to store or transfer data, and often connect to other networks and systems outside of the organization. Without proper security controls in place, these devices have the potential to inject malware or exfiltrate confidential data. This report presents a high-level summary of USB device activity, information on attached devices and previously connected devices.
Data is one of the most valuable assets within an organization. Every organization will have different policies in place regarding usage of USB-based devices. Some organizations may allow access for both personal and work-issued devices, but do not monitor activity. Others may allow access on a per-user basis, but do not block access for unauthorized personnel. Despite the increase in high-profile data breaches and confidential data being stolen, many organizations do not have adequate policies in place to monitor and/or block USB-based devices. Although completely blocking USB devices may not be ideal for some organizations, monitoring activity can provide the first step in keeping data secure.
This report will provide a summary of USB-based device activity from Windows systems on the network. Results collected by Nessus will provide detailed information on when a USB-device was connected to a system, the type of device and a history of devices previously attached to that system. Event data will provide a real-time look at newly connected devices, as well as when a device was connected or removed. Analysts will obtain a summary of the types of devices connected, which could include mobile phones, tablets, flash drives, external devices or digital cameras. Information collected from the Windows Registry will present historical data on the connection, types and names of USB devices. Results from compliance scans will highlight system misconfigurations associated with USB devices, removable storage and other portable devices.
This report is available in the SecurityCenter Feed, a comprehensive collection of dashboards, reports, Assurance Report Cards and assets. The report can be easily located in the SecurityCenter Feed under the category Monitoring. The report requirements are:
SecurityCenter 5.4.5
Nessus 6.10.4
LCE 5.0.1
ComplianceData
Tenable transforms security technology for the business needs of tomorrow through comprehensive solutions that provide continuous visibility and critical context, enabling decisive actions to protect the organization. Active scanning examines running systems and services, detects vulnerable software applications and analyzes configuration settings. Host data and data from other security products is analyzed to monitor patch management solutions on the network. Monitoring the network to ensure that all systems are secured against vulnerabilities is essential to ongoing security efforts. Tenable enables powerful, yet non-disruptive, continuous monitoring that will enable organizations with the information needed to monitor USB-based device activity within the enterprise.
The following chapters are included within this report:
Executive Summary: The Executive Summary chapter provides an overview of USB device activity detected by Nessus. Each chapter within this report provides detailed information about currently and previously detected USB-based devices on Windows systems. Information contained within this chapter will highlight USB activity by subnet, along with activity from USB devices being attached and removed on Windows systems.
USB Events Summary: The USB Events Summary chapter presents a summary of USB events detected by LCE. Elements will include activity from newly connected USB devices, and USB devices used on hosts. Analysts can use this information for forensic purposes to trace malicious activity or detect unauthorized usage.
USB Device Detection: The USB Device Detection chapter presents a summary of detected removable devices. Every organization will have specific policies in place to monitor and/or prevent USB-based devices from connecting to systems on the network. Data presented within this chapter will highlight specific devices usually found within most organizations. Analyst will also obtain a summary of attached devices, and can modify the elements to detect additional device types.