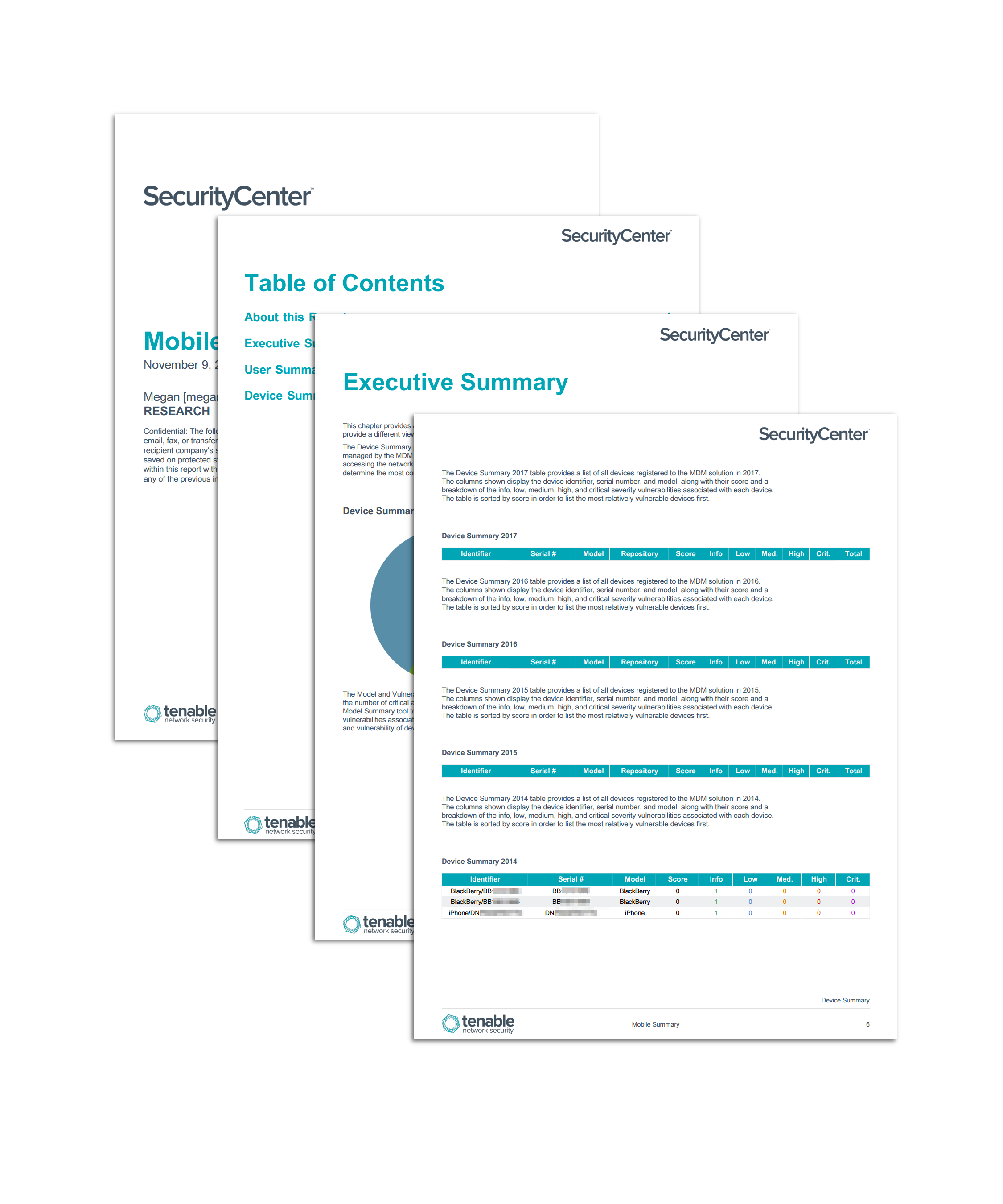 Identifying mobile devices on a network is a growing challenge. An organization's need to manage mobile devices increases as Bring-Your-Own-Device (BYOD) and enterprise mobile device programs become more commonplace. Mobile Device Management (MDM) solutions are gaining popularity in an attempt to improve the security of mobile device policies. By integrating SecurityCenter with implemented MDM platforms, organizations can more effectively monitor the presence of mobile devices in their network.
The Mobile Summary report assists security teams in understanding the presence of mobile devices in the network. New devices are tracked by date based on their first connection. A series of tables show the detailed information about devices registered to an organization's MDM solution during each year. Nessus and SecurityCenter support scanning of mobile devices using MDM solutions. The supported MDM solutions are currently Apple Profile Manager, Microsoft ActiveSync, VMWare AirWatch, MobileIron MDM, and Good Technology MDM. This dashboard uses the timestamp found in the plugin output to provide a clear depiction of when mobile devices have been registered to the MDM solution.
The chapters in this report focus on two primary topics: the users with registered devices and the timeframe in which a device was registered. User information explains which users have registered the most devices, as well as tracking the number of vulnerabilities associated with their devices. Much of the report is tailored to address one year between 2011 and 2020. For each year a device list is provided, which includes detailed information about each registered device along with vulnerability counts. Security analysts can use the information in these chapters to identify when and what devices are registered to the MDM solution in order to determine whether additional steps or policies regarding mobile devices are necessary.
This report is available in the SecurityCenter Feed, a comprehensive collection of dashboards, reports, assurance report cards and assets. This report can be easily located in the SecurityCenter Feed under the category Executive. The report requirements are:
SecurityCenter 4.8.2
Nessus 6.4.3
SecurityCenter Continuous View (CV) provides continuous network monitoring, vulnerability identification, risk reduction, and compliance monitoring. Nessus is continuously updated with information about advanced threats and zero-day vulnerabilities, and new types of regulatory compliance configuration audits. By integrating with Nessus and an organization's MDM solution, SecurityCenter CV provides the most comprehensive view of network security data.
This report contains the following chapters:
Executive Summary: This chapter provides an overview of the devices managed by the organization's MDM solution.
User Summary: This chapter contains a table listing the users with the most mobile devices registered to the MDM solution.
Device Summary: This chapter provides several tables that list the devices registered to the MDM solution during each year between 2011 and 2020.