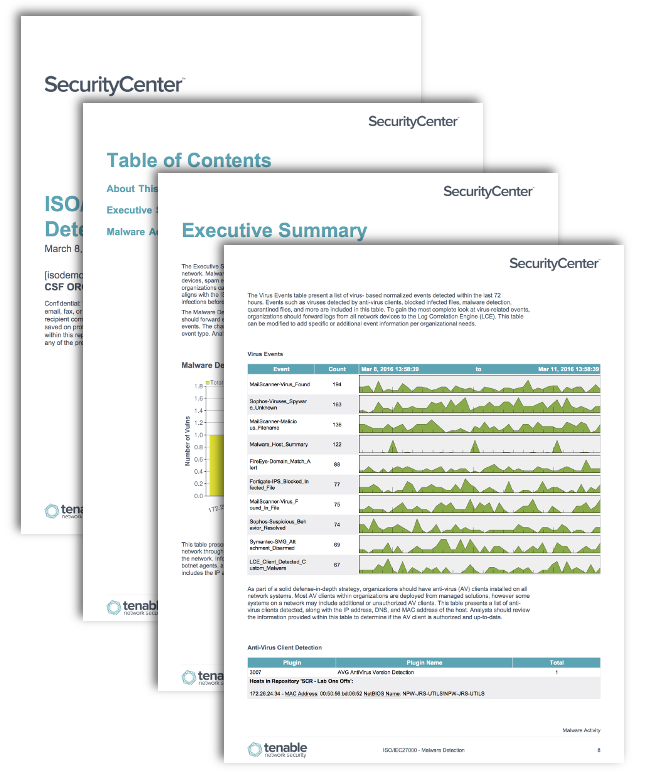 As organizations struggle to protect networks against malware, most sources of infection are the result of end users inadvertently accessing malicious websites that automatically install malicious code on internal hosts. Exposure to malware from external sources such as mobile phones, portable devices, rogue access points, and unpatched systems can leave critical systems vulnerable to attack. This report provides a high-level overview of detected malware activity and events across the enterprise.
The ISO/IEC 27002:2013 provides a framework that can be used to develop and enhance information security policies for any organization. Each security control and objective provided within the standard can be tailored to specific business and regulatory objectives, and assist with maintaining overall compliance. This report aligns with the ISO/IEC 27002 12.2.1 control, which can assist organizations by quickly identifying and preventing malware infections.
Using a combination of firewalls, anti-virus, and intrusion prevention systems (IPS) alone does not provide complete protection against the spread of malware. Zero-day and advanced persistent threats (APT) can make anti-virus clients and other traditional security solutions ineffective. Spam email is also another vector by which hosts can become infected with malware. Although some organizations provide internal security awareness about spam email, some users will still click on malicious links or attachments. Botnet infected hosts can harvest and copy confidential information such as credit card and Social Security numbers to other botnet infected hosts. Systems with outdated virus signatures inherently increase the risk for malware to infect multiple internal hosts. Using this report, organizations can continuously monitor the network to account for and monitor all possible vectors that malware may use.
Malware programs often take advantage of outdated vulnerabilities on operating systems, browsers, and other software to gain access to internal systems. This report will provide the latest information on malware infections, spam events, malicious processes, and maliciously hosted content that have been detected on a network. Each chart and table presents malware event activity reported from various network devices and services. Together, this report will provide security teams with the targeted information needed to make precise threat response decisions.
Using the ISO/IEC 27000: ISO Vulnerability Management dashboard and report, organizations will be able to correlate malware infections by identifying existing hosts with exploitable vulnerabilities. Organizations will find each dashboard and report beneficial in understanding how systems are being infected. Early identification of malware can help reduce the number of infections, and overall risk to the organization.
This report is available in the Tenable.sc Feed, a comprehensive collection of dashboards, reports, Assurance Report Cards, and assets. The report can be easily located in the Tenable.sc Feed under the category Compliance & Configuration Assessment. The report requirements are:
Tenable.sc 5.3.2

Nessus 8.5.1

LCE 6.0.0

NNM 5.9.1
Tenable.sc Continuous View (CV) is the market-defining continuous network monitoring platform. NNM provides deep packet inspection to continuously discover and track users, applications, cloud infrastructure, trust relationships, and vulnerabilities. Nessus is continuously updated with information about advanced threats and zero-day vulnerabilities, and new types of regulatory compliance configuration audits. Using Tenable.sc CV, organizations will obtain the most comprehensive and integrated view of its network devices, advanced threats, and sources of malware on a network.
Chapters
Executive Summary: The Executive Summary chapter reports on detected malware activity and malicious events across the network. Malware can infiltrate a network through a variety of network entry points such as unsecured devices, spam email, botnets, and portable devices. Each chapter provides detailed information organizations can use to target sources of malware and remediate blind spots on a network. The ISO Malware Detection report aligns with the ISO/IEC 27002 12.2.1 control, which can help to detect, remediate, and prevent malware infections before hosts are affected.
Malware Activity: This chapter includes the latest information on malware activity, spam events, and other malicious processes on a network. Each element provides detailed information being reported by network device logs that are being forwarded to the Log Correlation Engine (LCE). Information presented in this chapter can assist analysts in quickly detecting and remediating malware events before hosts are affected.