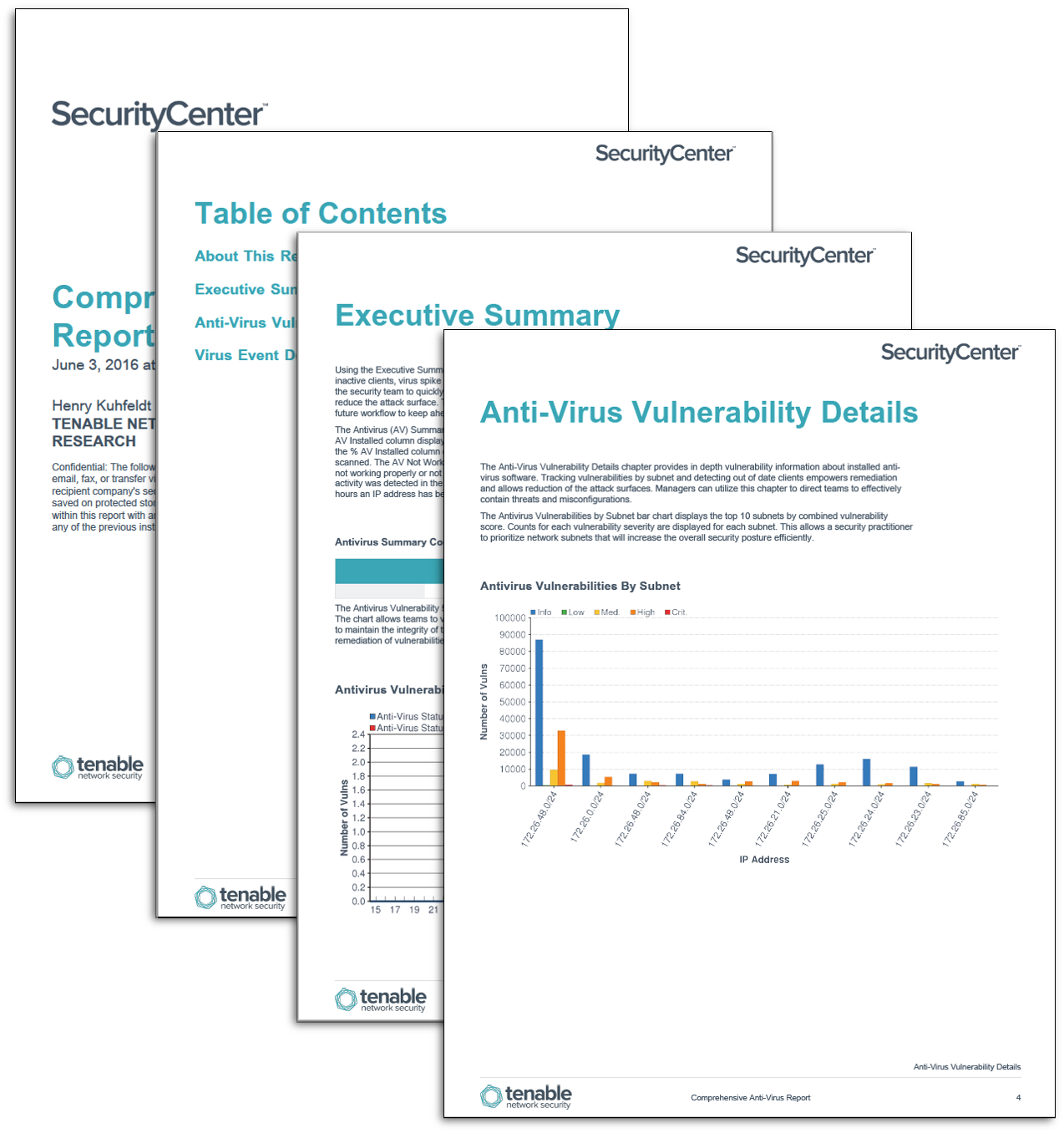 Despite assertions to the contrary, anti-virus software remains a first line of defense at the user level against malware, spyware, and viruses, as long as it is up to date and maintained. With thousands of systems to manage and support, organizations can easily fall behind in discovering potential infections, detecting device connectivity, and monitoring system status. The Comprehensive Anti-Virus Report allows the savvy security team to monitor for anomalies and take action before an infection can spread.
 
Most organizations are required to deploy and manage some sort of Anti-Virus (AV) software on all or a portion of their desktops and servers, and then report on the status of the deployment. This report template leverages Tenable's Tenable.sc Continuous View (CV) to obtain data from the anti-virus clients found on target computers. The report also reports on data collected from workstations, servers, and AV management servers to track related events using the Tenable Log Correlation Engine (LCE). All the data collected provides a more comprehensive view of virus and malware activities on the network. 
 
Enterprise versions of most AV software typically include a central management console to track the number systems that have AV installed, the versions, and the status of the AV signatures. However, these management consoles can't tell administrators about the systems that don't have AV installed, nor can the console track multiple vendor products or if stand alone products are installed. The Anti-Virus Software Check (16193) plugin checks that the remote host has an anti-virus installed and running, and that its engine and virus definitions are up to date. There are other plugins that support the detection of AV products such as McAfee, Sophos, Trend Micro, Symantec, Bit-Defender, ClamAV, and many more. Using the combination of these plugins, an administrator can easily track all the AV deployed in the environment.
 
Just as Tenable.sc CV can detect various types of AV software installed, the organization can use LCE with agents on both workstation and servers to gain the benefit of AV monitoring across platforms and operating systems. LCE normalizes virus activity events under the "Virus" event type. These normalized events can alert administrators to files being quarantined, unknown spyware or Potentially Unwanted Applications (PUA) being detected, and many other AV software actions. Where Tenable.sc CV leads the industry is in correlating these events to vulnerabilities, reporting over time, and performing statistical analysis. LCE has the ability to analyze activities over time and detect anomalies and long-term activities. This allows organizations using Tenable.sc CV to better assess virus activity on their networks.
 
The detailed chapters provide information for security teams to prioritize and allocate resources effectively. Additionally, the detailed events chapter provides information about virus related behaviors and activity on monitored hosts. Security teams can use this information to improve security posture across the enterprise. 
 
The report is available in the Tenable.sc Feed, a comprehensive collection of dashboards, reports, Assurance  Report Cards, and assets. The report can be easily located in the Tenable.sc Feed by selecting category Compliance & Configuration Assessments. The report requirements are:
Tenable.sc 5.3.2
Nessus 8.6.0
Log Correlation Engine 6.0.0
Compliance Data
 
Tenable automatically analyzes and provides information from active scanning, intelligent connectors, agent scanning, passive listening, and host data. Host data uses logs to correlate real-time events, monitor anti-virus activities, and malicious processes. Active scanning periodically examines hosts within the organization to determine overall risk.
Intelligent connectors leverage event logs to improve context and analysis. Agent scanning enables organizations to rapidly assess hosts without the need for credentials. Passive listening detects hosts that were offline during active scans, and provides real-time monitoring to collect information about each host and how the hosts are communicating on the network. Each sensor provides organizations with the tools they need to proactively respond to threats within the enterprise.

The following chapters are included in this report:
Executive Summary:   Using the Executive Summary chapter, analysts can obtain up-to-date counts of installed anti-virus clients, inactive clients, virus spike events, and long-term virus events. The vulnerability count trend over time allows the security team to quickly identify vulnerability trends in anti-virus software and begin to direct efforts to reduce the attack surface. These combined elements allow management to allocate resources and plan future workflow to keep ahead of issues with anti-virus software. 
Anti-Virus Vulnerability Details:    The Anti-Virus Vulnerability Details chapter provides in depth vulnerability information about installed anti-virus software.  Tracking vulnerabilities by subnet and detecting out of date clients empowers remediation and allows reduction of the attack surfaces. Managers can utilize this chapter to direct teams to effectively contain threats and misconfigurations.  
Virus Event Detection:  The Virus Event Detection chapter leverages LCE to identify events identified as virus related.  Managers can utilize this chapter to direct teams to effectively contain threats and identify virus activity.