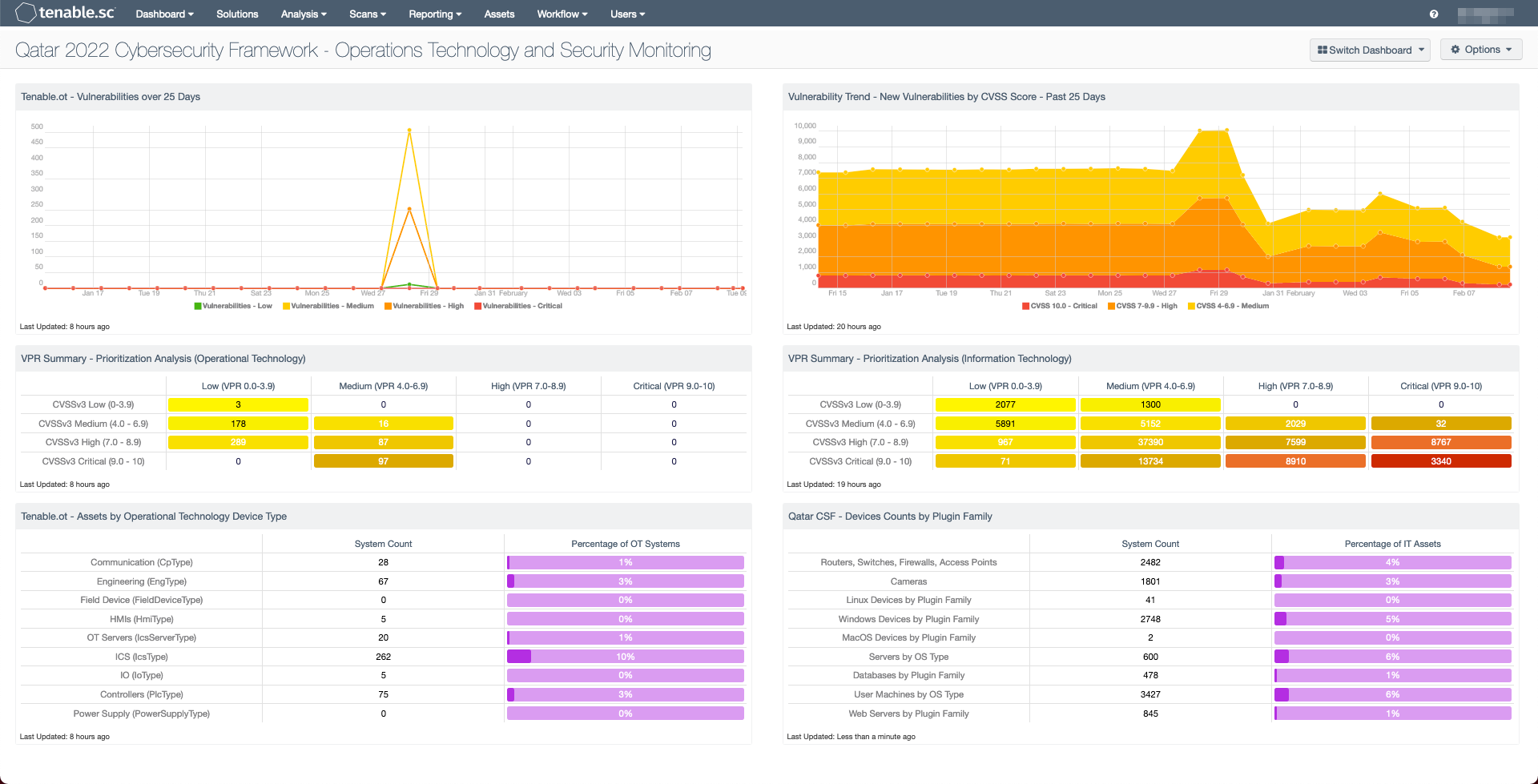 Massive events such as the FIFA 2022 World Cup™ present a significant attack surface and target rich environments for the criminally motivated. The State of Qatar is taking this seriously and setting cybersecurity and privacy at the top of the FIFA 2022 World Cup™ event agenda, requiring entities to adopt and implement The Qatar 2022 Cybersecurity Framework, and elevate endpoint security in preparation for the World Cup.
The Cybersecurity Frameworks Capability Description – Capability Description – Operations Technology Security Monitoring section (Chapter 9) focuses on mission critical systems that make up critical infrastructure operations such as water, oil,  gas and electricity. Tenable.sc enables organizations to monitor and report on the risk regarding systems that operate critical infrastructure. By understanding the active asset inventory and risk, the Risk Manager can better align Security Monitoring efforts with the business objectives to support the World Cup services.
Modeled from the Cybersecurity Governance Capability within the framework, this dashboard offers an in-depth look into the current risk to both OT and IT assets that interact with critical systems. The columns in this dashboard displays OT and IT related risk and detection. Risk Managers are given trending vulnerabilities to understand whether or not infrastructure risk is increasing or decreasing over time. Vulnerability Priority Rating (VPR) scored vulnerability information and asset inventories are given to expedite mitigation efforts towards areas where remediation is most needed.
The Qatar 2022 CSF clearly outlines the compliance and risk management requirements to ensure a secure environment for the 2022 World Cup. The tools within this dashboard offer managers a decisive way to confidently make decisions regarding the enterprise that they direct. Equipped with proper knowledge and tools, entities ensure that their organization's needs are fully met.
This dashboard is available in the Tenable.sc Feed, a comprehensive collection of dashboards, reports, Assurance Report Cards, and assets. The dashboard can be easily located in the Tenable.sc Feed under the category Compliance & Configuration Assessments. The dashboard requirements are:
•    Tenable.sc 5.15.0
•    Nessus 8.11.1
Tenable.sc Continuous View (CV) is the market-defining On-Prem Cyber Exposure Platform. Tenable.sc CV provides the ability to continuously Assess an organization's adherence to best practice configuration baselines. Tenable.sc provides customers with a complete Cyber Exposure platform for completing effective cybersecurity practices.