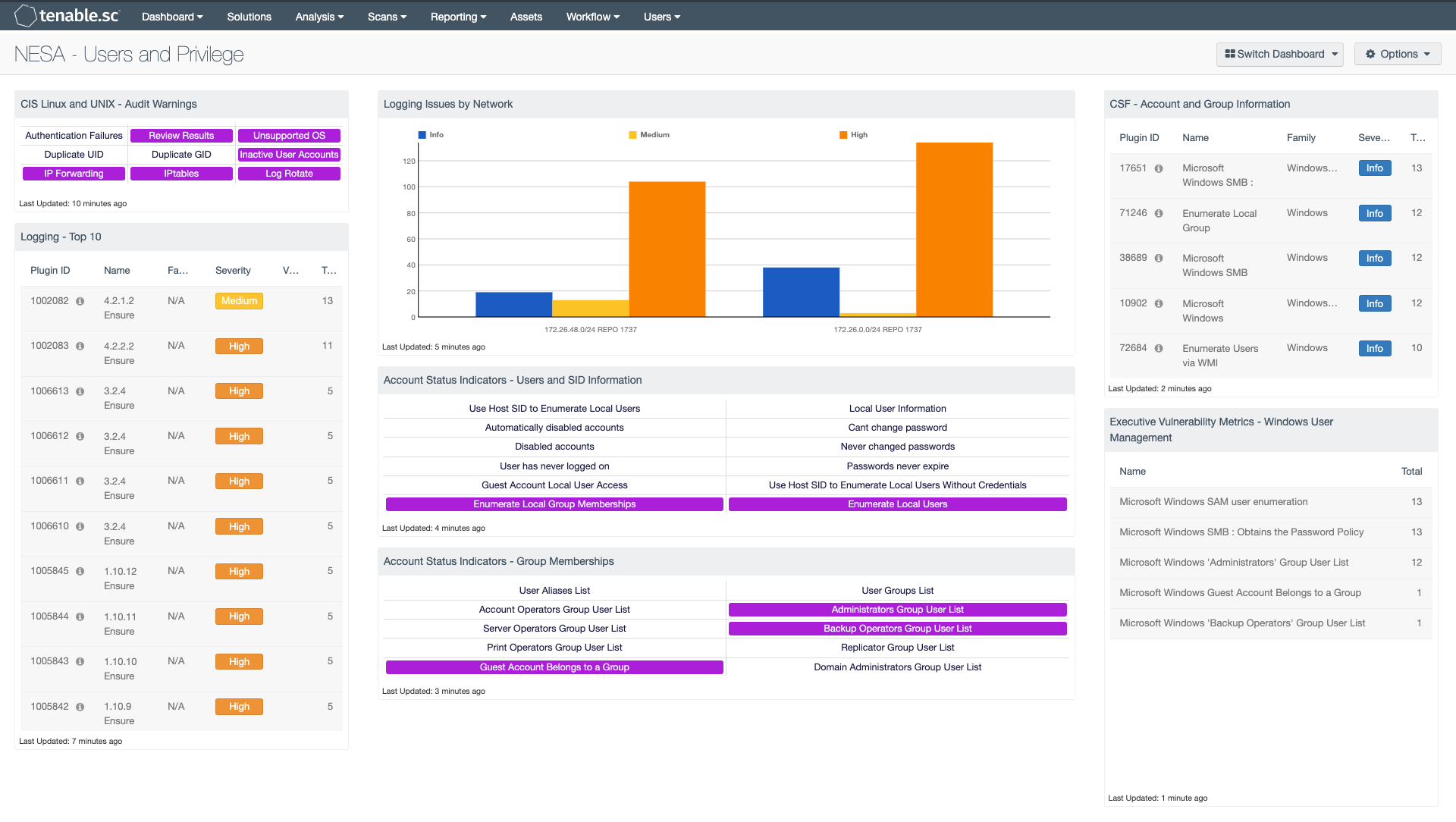 The United Arab Emirates' (UAE) National Electronic
Security Authority (NESA) Information Assurance
Standards state that an organization should follow best practice user account management. The NESA standard requires understanding user privilege and access rights. Tenable.sc includes many indicators of user access and activity. This dashboard allows a risk manager to easily understand the user privileges within the organization and areas where rights can be tightened.
The Assess phase of the Cyber Exposure lifecycle requires understanding the cyber exposure of all assets, including vulnerabilities, misconfigurations, and other security health indicators. In order to understand security health, an organization needs to understand the state of identity management within their network. 
In order to understand privilege and access, an organization must answer several questions. Are there unnecessary administrative privileges in the organization? Are all user accounts unique? Do administrators log on to non-administrative workstations? Are inactive accounts purged from the environment? Are effective controls for separation of duties in place? The answers to these questions provide a solid basis for understanding credential hygiene and maintaining NESA compliance. NESA controls T3.1.1, T3.2.4, T3.6.2, T3.6.3, T3.6.5, T4.5.1, T5.1.1, T5.2.1, T5.2.2, T5.2.3, T5.4.2, T5.5.1, T5.5.2, T7.5.1, and T8.2.3 apply.
Administrative privileges should be controlled and limited specifically to those with a need, to limit the risk from account compromise. Each user of a system should have a unique account assigned to them. Sharing of user accounts limits accountability for actions. Administrator credentials should only be used to log on to workstations specifically designated for administrative work and all actions by the administrator should be logged. This limits the risk of account compromise via non-hardened workstations and ensures an appropriate audit trail exists in case of credential use by a bad actor. Following the principle of least privilege, users should  only have the access specifically needed and no more. Similarly, user privileges should be separated by functional groups preventing fraud by ensuring that no individual has unnecessary authority to perform critical functions.
Tenable.sc provides many mechanisms for understanding credential hygiene. Local checks provide group membership, local user access, and user account information including information about inactivity and password change status. Local checks can also identify inactive and duplicate accounts on Linux and UNIX systems. Tenable.sc uses audit files to determine the state of logging on hosts and the associated risks. Separation of duties can be inferred by understanding the group memberships and other checks.
The dashboard and its components are available in the Tenable.sc Feed, a comprehensive collection of dashboards, reports, assurance report cards and assets. The dashboard can be easily located in the Tenable.sc Feed under the category Compliance & Configuration Assessment.
The dashboard requirements are: 
Tenable.sc 5.12.0
Nessus 8.9.0
Compliance Data
Tenable.sc Continuous View (CV) is the market-defining On-Prem Cyber Exposure Platform. Tenable.sc CV provides the ability to continuously Assess an organization's adherence to best practice configuration baselines. Tenable.sc provides customers with a full and complete Cyber Exposure platform for completing an effective Cyber Hygiene program prescribed by NESA standard.