Move from Rapid7® to Tenable
Vulnerability Management is more important than ever to reducing cybersecurity risk and ensuring compliance, but selecting the right vendor isn't easy. Tenable® is committed to helping you understand and reduce your Cyber Exposure with the world's first Cyber Exposure platform. But don't just take our word for it. Tenable.io was named the #1 vulnerability management solution by SC Awards.
Tenable is dedicated to VM. We're not spreading our resources thin across SIEM, SOAR, IT Operations, and other markets. Our R&D is laser focused on helping customers see unknown assets, detect vulnerabilities in new technologies, integrate with existing systems, and better manage risk. With Tenable's predictive and threat-based approach to vulnerability prioritization, you can achieve up to a 97% reduction in the number of vulnerabilities you need to patch first. Our solutions are designed to provide deep asset and vulnerability coverage, broad compliance support, and the integrations you need to automate processes and ensure success.
Try For Free
Read Case Studies
OVER 27,000 ORGANIZATIONS RELY ON TENABLE
CONSIDER THE ADVANTAGES OF MOVING TO TENABLE
Increased Vulnerability Coverage and Accuracy
Stop the pain of false-positives and missed vulnerabilities. The Nessus® scanner is the gold standard in identifying and assessing environments for vulnerabilities, powering both Tenable.sc and Tenable.io. Only Tenable combines active scanning, passive network monitoring, and agents, providing greater coverage of assets and vulnerabilities. With detection for over 50,000 CVEs, Tenable helps you identify 20% more vulnerabilities than Rapid7 – essential to understanding and protecting your attack surface. Read this research report to learn more.
Best Vulnerability Management Solution
in Accuracy
Tenable has the industry's lowest false positive rate with six-sigma accuracy*
*.32 defects per 1 million scans
Reduce the Number of Vulnerabilities You Need to Patch First by 97%
Slash your remediation effort by focusing on the vulnerabilities that actually matter. Our Predictive Prioritization is designed to identify the 3% of vulnerabilities most likely to be exploited in the near future. Move beyond Rapid7's basic scoring and utilize Tenable's combined threat intelligence and machine learning algorithms to identify vulnerabilities likely to be exploited in the near future.
The result is simply better prioritization – enabling you to reduce remediation effort while focusing first on what matters most.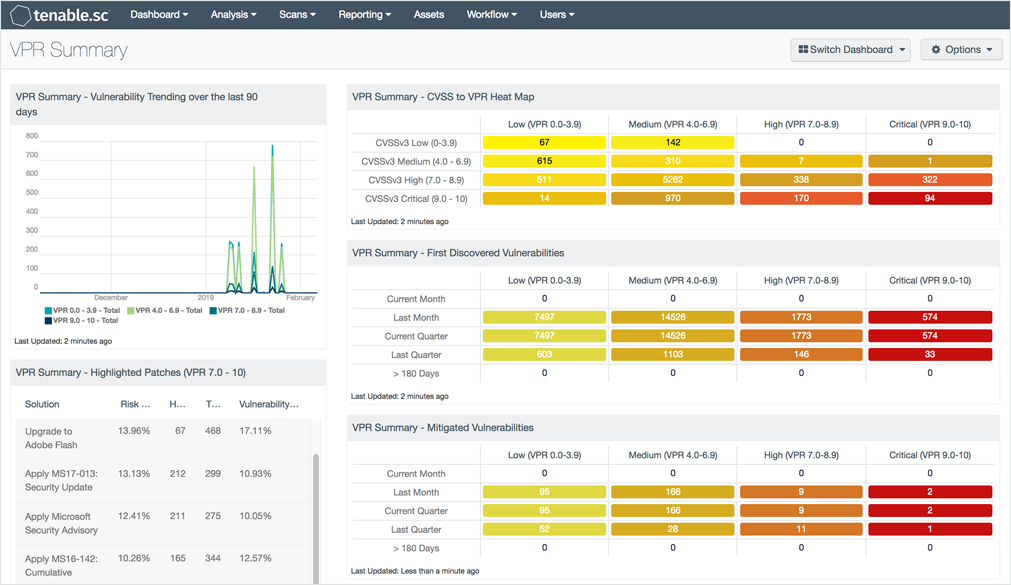 Extensive Compliance Framework Support
You deserve pre-built support for key compliance frameworks. Unlike Rapid7, which requires professional services to create reports for most frameworks, Tenable.sc offers hundreds of out-of-the-box dashboards and reports for security and compliance frameworks. Read this research report to learn more.
Cross-industry Frameworks
ISO/IEC 27001/27002
CIS Benchmarks (many)
NIST Cybersecurity Framework (CSF)
Industry-specific Frameworks
Country-specific Frameworks
ASD Top 4, Essential 8, CPG 234 (Australia)
ITSG-33 (Canada)
BA-RoC (China)
ANSSI (France)
BSI IT-Grundschutz (Germany)
HKMA (Hong Kong)
RBI (India)
MAS TRM (Singapore)
NIST 800-53 / FISMA, NIST 800-171, DISA STIG, SCAP, USGCB, FDCC, GLBA, FTI / IRS Pub 1075, CJIS (USA)
Advanced Agent Capabilities
Stop sacrificing endpoint compliance visibility. Critical employee endpoints are at risk from security misconfigurations and policy violations just as much as vulnerabilities.
When you move to Tenable, you benefit from the industry's most advanced agent for vulnerability and configuration assessment. Our Nessus Agent is a lightweight, highly efficient component designed to run on a variety of endpoints without impacting performance. Unlike Rapid7, it offers both vulnerability scans and compliance / configuration scans – to help keep your endpoints secure and compliant.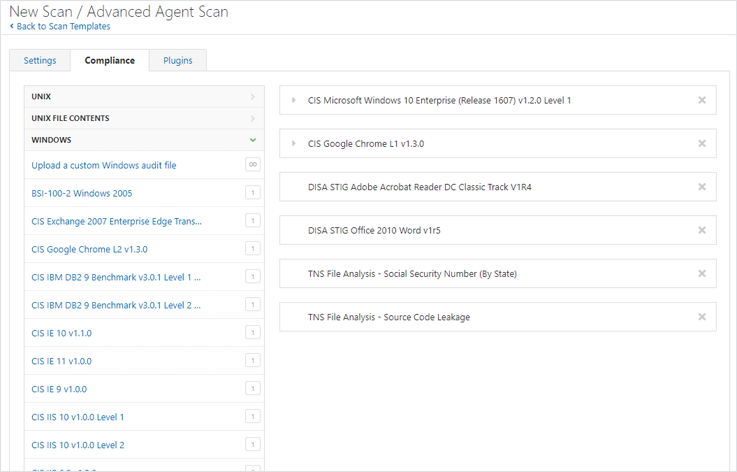 Protecting Your IoT and OT Assets
According to the Ponemon Institute, 50% of organizations experienced an OT attack in the last 2 years. Don't let IoT and OT assets remain a blind spot. Only Tenable offers a complete solution for every environment and asset, from IT to Cloud to IoT and OT.
Since many IoT and ICS/SCADA assets are too sensitive to be actively scanned, a different approach is needed: passive network monitoring. Tenable's patented Nessus Network Monitor provides asset and vulnerability coverage for over 180 hardware vendors and 2,600 software vendors. Tenable also offers Industrial Security, an innovative OT security solution developed in partnership with Siemens, supporting OT systems from Siemens and dozens of other manufacturers.
Read the Solution Brief