Data Sheet
Tenable Identity Exposure
Preventative Security for Identity Exposure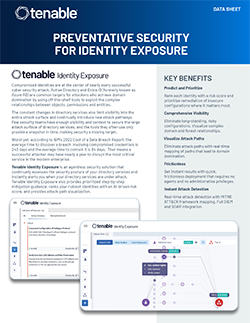 Active Directory (AD) protects the keys to the enterprise kingdom. There are only a handful of vital IT assets that attackers use to spread after initial infection, and AD remains the root of most compromises. Reality check: the trillion-dollar cybercrime industry is evolving faster than Active Directory's 20-year-old defenses. With Tenable Identity Exposure, you can finally negate attackers, secure your Active Directory and disrupt attack paths. No privilege escalation. No lateral movement. No next step. Tenable Identity Exposure empowers security professionals to:
Mitigate existing threats
Maintain hardened security
Detect attacks in real time
Investigate incidents and hunt for threats
All with no agents and no privileges. Start exploring Tenable Identity Exposure now.
Tenable Identity Exposure