Tenable Lumin
Tenable Nessus
Tenable Nessus Network Monitor
Tenable One
Tenable Identity Exposure
Tenable Attack Surface Management
Tenable Cloud Security
Tenable Vulnerability Management
Tenable Web App Scanning
Tenable OT Security
Tenable Security Center
Tenable Security Center Plus
Tenable Research Report
How Generative AI Is Changing Security Research
ChatGPT is being used for both good and bad purposes. Asking it the right questions will decide the battle.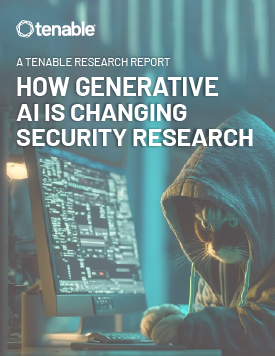 Generative AI is not only being used by threat actors to design new attacks. Tenable Research is experimenting with the use of large language models to reduce complexity and achieve efficiency in the following areas in order to accelerate research capabilities:
Reverse engineering
Debugging code
Improving web app security
Increasing visibility into cloud-based tools
Written for security research practitioners, this report provides an insider glimpse into how Tenable is leveraging generative AI for good, and making new tools available to the wider research community.