Up Your Vulnerability Prioritization Game with Tenable Lumin for Tenable.sc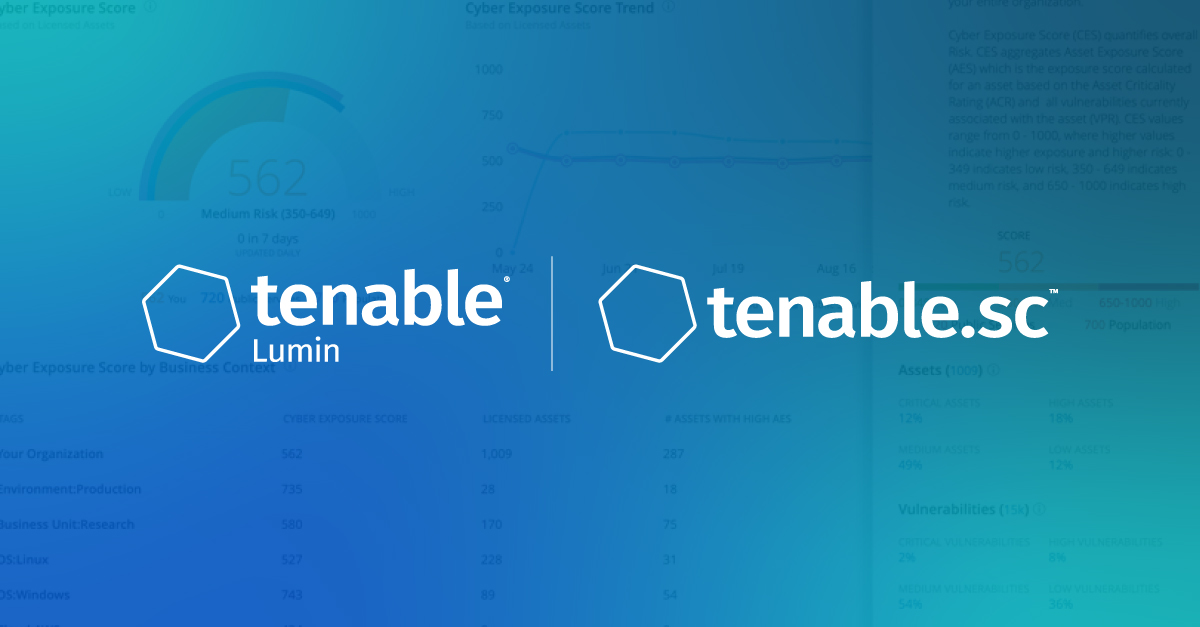 We're excited to take vulnerability prioritization to the next level with the introduction of Tenable Lumin for Tenable.sc. 
Tenable.sc customers have long enjoyed a rich array of tools for getting the visibility and context they need into the assets and vulnerabilities on their network. And with the introduction of the Vulnerability Priority Rating and the Solutions view page over the past 12 months, we made it easier to prioritize patching and focus on the vulnerabilities posing the greatest risk. 
With the release of Tenable.sc 5.13, customers can use Tenable Lumin to up their prioritization game with the ability to calculate, communicate and compare cyber risk – helping security and IT zero in on the vulnerabilities to remediate first. With this integration, customers send their vulnerability data from Tenable.sc to Tenable Lumin for analysis. Tenable Lumin then transforms the vulnerability data into meaningful insights to help measure and manage cyber risk.
Let's take a closer look at what the Tenable.sc and Tenable Lumin integration provides: 
Advanced prioritization
Tenable Lumin takes Tenable.sc's prioritization capabilities to the next level by providing clear recommended actions that help security know where to focus – the critical vulnerabilities affecting your most critical assets. Advanced risk-based Cyber Exposure analysis and scoring weighs vulnerabilities, threat data and asset criticality, showing you where to concentrate remediation efforts. In addition to the VPR and CVSS scores already available in Tenable.sc, Tenable Lumin provides the Asset Critically Rating (ACR) and Cyber Exposure Score. ACR is an objective measure of the criticality of an asset to an organization. 
Risk rating 
Tenable Lumin analyzes the vulnerability data from Tenable.sc and combines it with other inputs (e.g., threat intelligence and asset criticality context) to calculate a Cyber Exposure Score. The Cyber Exposure Score gives customers an indication of their organization's cyber risk in the form of a simple score they can report and measure against over time as a rating of security program effectiveness. 
Industry benchmarking
With Tenable Lumin, customers can learn how their overall cyber risk compares to their industry peers, providing insight into industry standards and where different gaps and shortcomings exist. Tenable Lumin also helps you see how your assessment and remediation processes stack up against peers, so you can improve your overall effectiveness. This can also help you make a case for more investment in your security program and prove to the board that your program is following best practices and meeting industry standards. 
Get more information about Tenable Lumin
Want to learn more about Tenable Lumin? Reach out to your account representative or check out the following resources:
Related Articles
Metrics
SecurityCenter
Vulnerability Management
Are You Vulnerable to the Latest Exploits?
Enter your email to receive the latest cyber exposure alerts in your inbox.