Exposure Management: Reducing Risk in the Modern Attack Surface

Cybersecurity organizations struggle with reactive and siloed security programs and with a sprawl of point tools that generate heaps of fragmented data but few insights. Here we explain why they need an exposure management platform that provides comprehensive visibility and allows them to anticipate threats, prioritize remediation and reduce risk.
IT environments with well-defined on-premises boundaries have gone the way of the rotary phone. Why? Line up the usual suspects: Cloud, mobility, continuous software delivery, IoT and all the other modern technologies and processes that have come about in the last several years. 
As a result, IT environments have become complex, distributed, hybrid and loosely coupled – making them incredibly difficult to secure. This ever-expanding and convoluted attack surface offers cybercriminals plenty of blind spots and gaps to exploit.
In this new world, cybersecurity organizations continue to struggle with security programs that are reactive and siloed, and with a sprawl of point tools generating mounds of fragmented data that's often impossible to easily correlate and difficult to draw meaningful insights from.
What to do? Enter exposure management
As IT environments evolve and become more complex, so do the tools and techniques needed to secure and protect all of our assets. Vulnerability management has served us well for better understanding the security posture of traditional IT assets, such as servers, workstations or network devices. But the transition to cloud platforms, microservices, web applications, connected operational technology devices and identity services requires more and more specialized tools that can safely and correctly assess each of these technologies to determine where they may pose risk to the organization. 
Exposure management is the more modern version of this sort of siloed assessment methodology, where the data of each assessment tool and technique can be brought together and analyzed to see the relationships between each finding, allowing organizations to understand the true nature of where they may be exposed to an attack. Since attackers will commonly pivot from one type of vulnerability to another, defenders must be able to understand how all of the vulnerability and misconfiguration data they have can impact each other. Historically, this kind of aggregated, relationship-focused analysis was done manually and in an external data store where security teams have had to create their own risk relationships and leverage their personal understanding of the infrastructure. This leads to incomplete views of the environment and a very unwieldy, difficult process to try and get their arms around this problem.
There's an answer to this thorny scenario: an exposure management program that transcends traditional vulnerability management and includes data about configuration issues, vulnerabilities and attack paths across a spectrum of assets and technologies — including identity solutions; cloud configurations and deployments; and web applications.
An exposure management program — underpinned by a technology platform and by the processes required to understand, respond to and remediate exposures — allows organizations to:
Gain comprehensive visibility across the modern attack surface
Anticipate threats and prioritize efforts to prevent attacks
Communicate cyber risk to make better decisions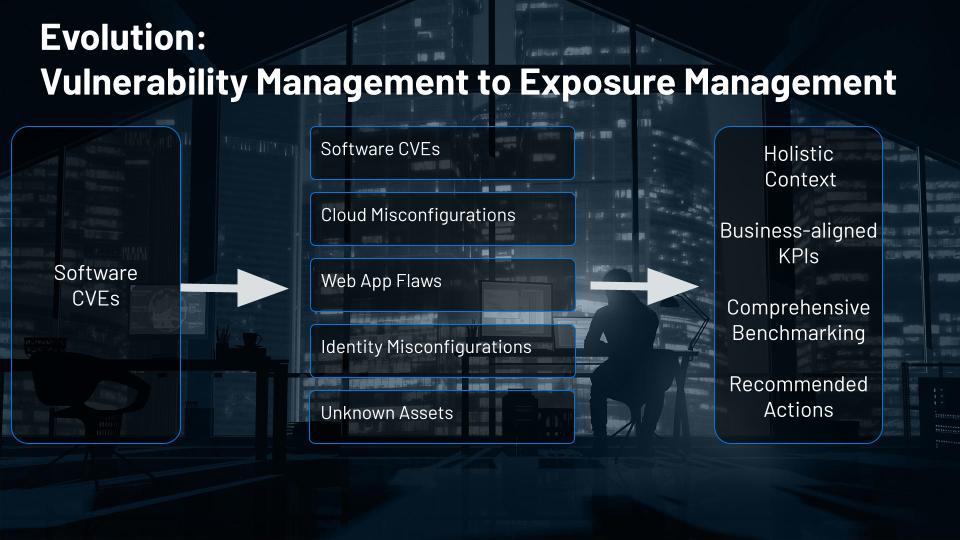 Do you need exposure management?
This questionnaire will help you determine if you need to adopt an exposure management program:
Do the tools in your security stack interoperate and give you comprehensive insights into your exposure?
Do you have full visibility into your attack surface, from endpoints to the cloud to your on-prem environments and everywhere in between?
Can you, at any given point, prioritize your remediation efforts in a predictive manner so that you always know what you need to do first?
Are you leveraging threat intelligence to understand your threat landscape?
Can you analyze all the attack paths that can lead cybercriminals to your most critical assets?
Are you remediating issues in a timely, precise, continuous manner in a way that meets or exceeds industry benchmarks?
Can you answer with confidence and authority the question: "How secure are we?"
Are you able to clearly communicate your security status both to business executives and to your security team?
Are your decisions for resource allocation in the security organization grounded in data?
If you answered "no" to all or most of these questions, you most likely would benefit from exposure management.
Key benefits
A comprehensive exposure management program helps a variety of stakeholders. Here are the benefits it provides to three key constituencies.
Security practitioners 

Full visibility and understanding of the entire attack surface
Unified view of all assets — no more blind spots
Precise remediation prioritization for all types of vulnerabilities and exposures
Clarity for building a baseline for effective risk management
Improved risk decision-making
Security managers

Comprehensive insight and context about threats, assets and privileges 
Reduction both of risk and of needed remediation and response resources
Ability to anticipate attack consequences via a contextual view of assets and users across the attack surface
Clear, easily communicated key performance indicators (KPIs) for tracking progress over time and comparing benchmarks
CISOs, Business Information Security Officers (BISOs) and other security executives

Accurate risk assessments to improve decisions about investments and insurability, meet compliance requirements and drive organizational improvement
Actionable metrics to help measure, compare and communicate cyber risk to IT and security teams, as well as to non-technical executives and operating teams 
A unified view of cyber risk with clear KPIs to measure progress and benchmark comparisons against industry peers and within the organization
The ability to answer the question: "How secure are we?"
3 things to look for in an exposure management platform
An effective exposure management platform needs to offer three key features:
Comprehensive visibility
To quickly and smoothly understand and manage an organization's cyber risk and its entire attack surface, and to eliminate blind spots, the platform must provide:
A unified view of all assets and associated software vulnerabilities, configuration vulnerabilities and entitlement vulnerabilities, whether on-prem or in the cloud
Continuous monitoring of the internet to rapidly discover and identify all external-facing assets to eliminate areas of known and unknown security risk 
Prediction and prioritization
To help the security team anticipate the consequences of a cyberattack, prioritize its actions and reduce risk with the least amount of effort, the platform must:
Offer context about the interrelated assets, exposures, privileges and threats across an attack path by drawing upon the large data sets available from various point tools
Continuously identify and focus on the attack pathways that present the greatest risk of being exploited by attackers
Provide accurate and predictive remediation guidance and insights
Effective metrics to communicate cyber risk
To offer security executives and business leaders a centralized, business-aligned view of cyber risk with clear KPIs, as well as allow them to benchmark capabilities, the platform must:
Provide actionable insights into the organization's overall cyber risk — including the value of the proactive efforts happening daily 
Allow users to drill down for specifics about each department, business unit, geo-location, technology type or any other form of business operations
Help improve overall communication and collaboration among different constituencies within the organization
Offer actionable metrics that help save time, improve investment decisions, support cyber insurance initiatives and drive improvement while tangibly reducing risk
How Tenable can help
Today, Tenable launched the Tenable One Exposure Management Platform, which unifies a variety of data sources into a single exposure view to help organizations gain visibility, prioritize efforts and communicate cyber risks. 
Building on proven Tenable products, Tenable One brings disparate vulnerability, misconfiguration and other security issues together into a single place, unifying the risk context across all findings and providing contextualized understanding of where the organization is most at risk. This makes it possible to equally weigh the risk of a missing patch versus a SQL Injection vulnerability versus a misconfigured container and understand which is more potentially impactful to your business. With Tenable One, organizations can take advantage of the integrations that already exist between Tenable and its partners, such as ServiceNow. It is also designed to form the foundation of an exposure management program, alongside the other security tools, processes and services already implemented within most organizations.
Learn more
Cybersecurity News You Can Use
Enter your email and never miss timely alerts and security guidance from the experts at Tenable.