CVE-2021-22005: Critical File Upload Vulnerability in VMware vCenter Server

VMware published an advisory addressing 19 vulnerabilities, including one critical flaw in vCenter Server that is reportedly simple to exploit.
Background
On September 21, VMware published a security advisory addressing 19 vulnerabilities in vCenter Server, its centralized management software for VMware vSphere systems. The full list of vulnerabilities patched includes:
| CVE | Description | CVSSv3 |
| --- | --- | --- |
| CVE-2021-22005 | vCenter Server file upload vulnerability | 9.8 |
| CVE-2021-21991 | vCenter Server local privilege escalation vulnerability | 8.8 |
| CVE-2021-22006 | vCenter Server reverse proxy bypass vulnerability | 8.3 |
| CVE-2021-22011 | vCenter server unauthenticated API endpoint vulnerability | 8.1 |
| CVE-2021-22015 | vCenter Server improper permission local privilege escalation vulnerabilities | 7.8 |
| CVE-2021-22012 | vCenter Server unauthenticated API information disclosure vulnerability | 7.5 |
| CVE-2021-22013 | vCenter Server file path traversal vulnerability | 7.5 |
| CVE-2021-22016 | vCenter Server reflected XSS vulnerability | 7.5 |
| CVE-2021-22017 | vCenter Server rhttpproxy bypass vulnerability | 7.3 |
| CVE-2021-22014 | vCenter Server authenticated code execution vulnerability | 7.2 |
| CVE-2021-22018 | vCenter Server file deletion vulnerability | 6.5 |
| CVE-2021-21992 | vCenter Server XML parsing denial-of-service vulnerability | 6.5 |
| CVE-2021-22007 | vCenter Server local information disclosure vulnerability | 5.5 |
| CVE-2021-22019 | vCenter Server denial of service vulnerability | 5.3 |
| CVE-2021-22009 | vCenter Server VAPI multiple denial of service vulnerabilities | 5.3 |
| CVE-2021-22010 | vCenter Server VPXD denial of service vulnerability | 5.3 |
| CVE-2021-22008 | vCenter Server information disclosure vulnerability | 5.3 |
| CVE-2021-22020 | vCenter Server Analytics service denial-of-service Vulnerability | 5.0 |
| CVE-2021-21993 | vCenter Server SSRF vulnerability | 4.3 |
Source: VMware, September 2021
In addition to publishing the security advisory, VMware published a blog post and a Questions and Answers post addressing some foundational questions about the advisory. Of the 19 vulnerabilities, only CVE-2021-22005 was assigned a severity of Critical.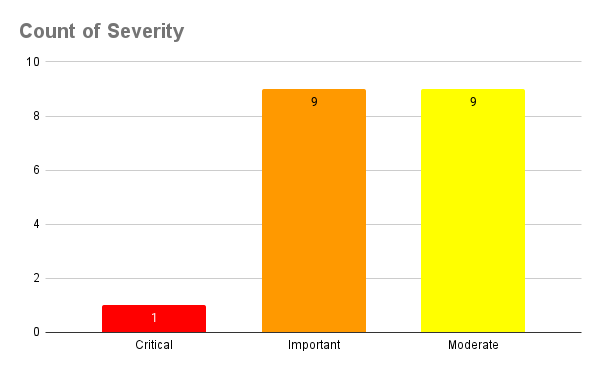 Source: Tenable, 2021
Analysis
CVE-2021-22005 is a file upload vulnerability in the vCenter Server. An unauthenticated attacker capable of accessing port 443 over the same network or directly from the internet could exploit a vulnerable vCenter Server by uploading a file to the vCenter Server analytics service. Successful exploitation would result in remote code execution on the host. In its blog post, VMware notes that this vulnerability exists in vCenter Server "regardless of the configuration settings," which makes this exploitable by default in affected vCenter Server installations.
While the remainder of the vulnerabilities patched in today's release aren't critical, they are split evenly between Important and Moderate severity flaws. The remaining vulnerabilities vary, from privilege escalation and denial of service to information disclosure and path traversal vulnerabilities. These flaws will likely be valuable to attackers, particularly affiliates of ransomware groups, that have already compromised a network through other means.
This is the second time in the last four months that VMware issued a patch for a critical flaw affecting vCenter/vSphere. In May, VMWare disclosed CVE-2021-21985, a remote code execution vulnerability in VMware's vSphere Client.
Security researcher Allan Liska tweeted that CVE-2021-21985 has already been leveraged as part of ransomware attacks and that CVE-2021-22005 "looks even worse."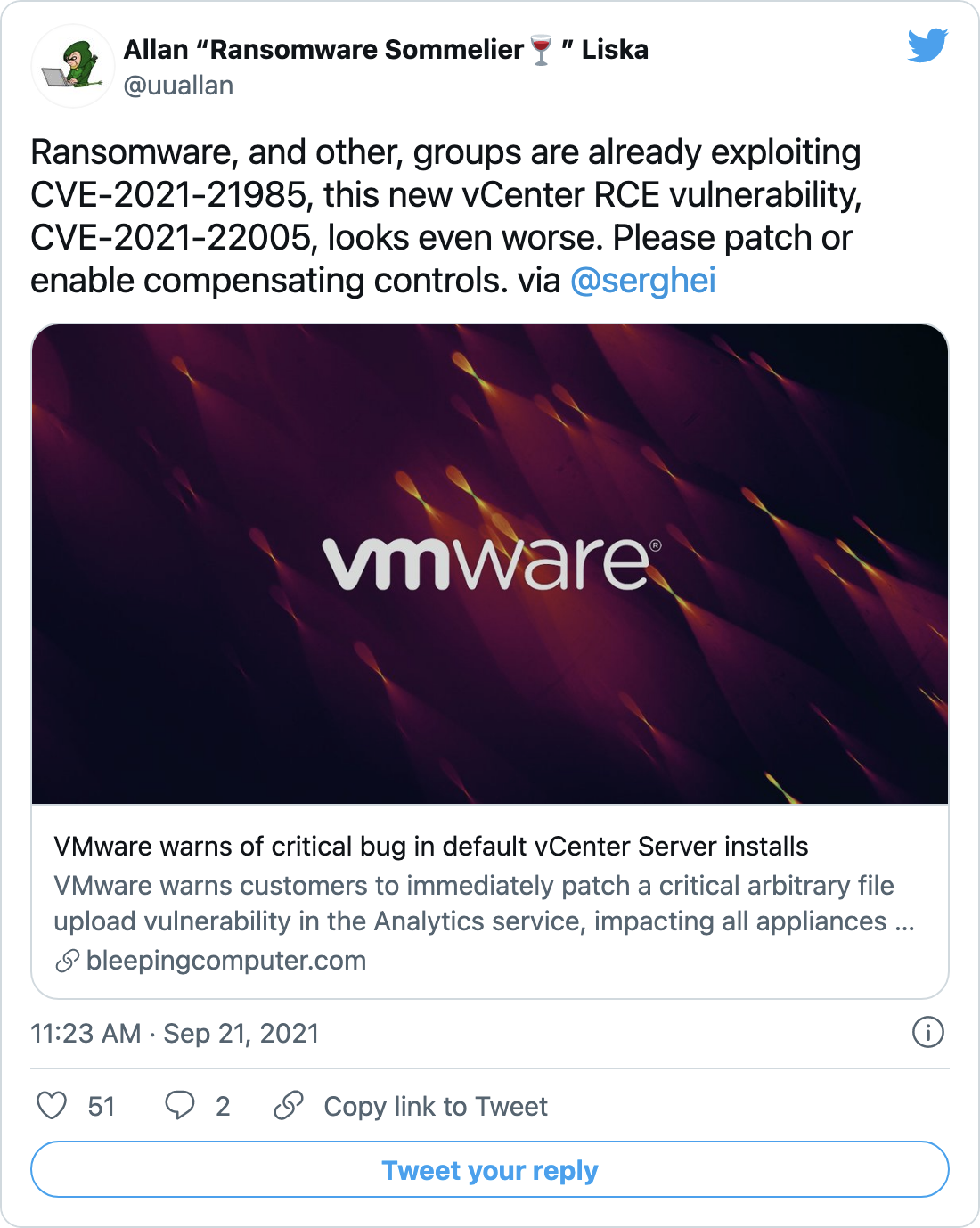 Researchers stress urgency to patch as the vulnerability is "trivial to execute"
Derek Abdine, chief technology officer for Censys, tweeted that he discovered the vulnerable code path for this vulnerability and that it "looks stunningly trivial to execute." As a result, Abdine added that users should "Patch now."
I've discovered the vulnerable code path for vCenter CVE-2021-22005. Wasn't hard after seeing the workaround from VMware and diffing versions of vCenter's decompiled class files.

It looks stunningly trivial to execute. Patch now.

— Derek Abdine (@dabdine) September 22, 2021
Proof of concept
At the time this blog post was published, there were no publicly available proof-of-concept (PoC) scripts for CVE-2021-22005. However, Abdine's warning implies that we may see PoC released shortly.
Solution
To address the 19 vulnerabilities disclosed in its advisory, VMware released patches for vCenter Server 7.0, 6.7 and 6.5. For a full breakdown of which CVEs are addressed in each release, please refer to the VMware advisory page.
For CVE-2021-22005, the following is a breakdown of the vCenter Server version, associated fixed version as well as the installation addressed.
| Version of vCenter Server | Fixed Version | Installation |
| --- | --- | --- |
| 7.0 | 7.0 U2c | Any |
| 6.7 | 6.7 U3o | Virtual Appliance |
Please note that vCenter Server version 6.7 for Windows and version 6.5 for any installation are not affected by CVE-2021-22005.
Organizations are strongly encouraged to apply these patches as soon as possible.
If patching is not feasible at this time, VMware has provided workaround instructions for CVE-2021-22005. However, the workaround should be considered a temporary solution and should not be a replacement for upgrading to a fixed version.
Identifying affected systems
A list of Tenable plugins to identify these vulnerabilities will appear here as they're released.
Get more information
Join Tenable's Security Response Team on the Tenable Community.
Learn more about Tenable, the first Cyber Exposure platform for holistic management of your modern attack surface.
Get a free 30-day trial of Tenable.io Vulnerability Management.
Cybersecurity News You Can Use
Enter your email and never miss timely alerts and security guidance from the experts at Tenable.