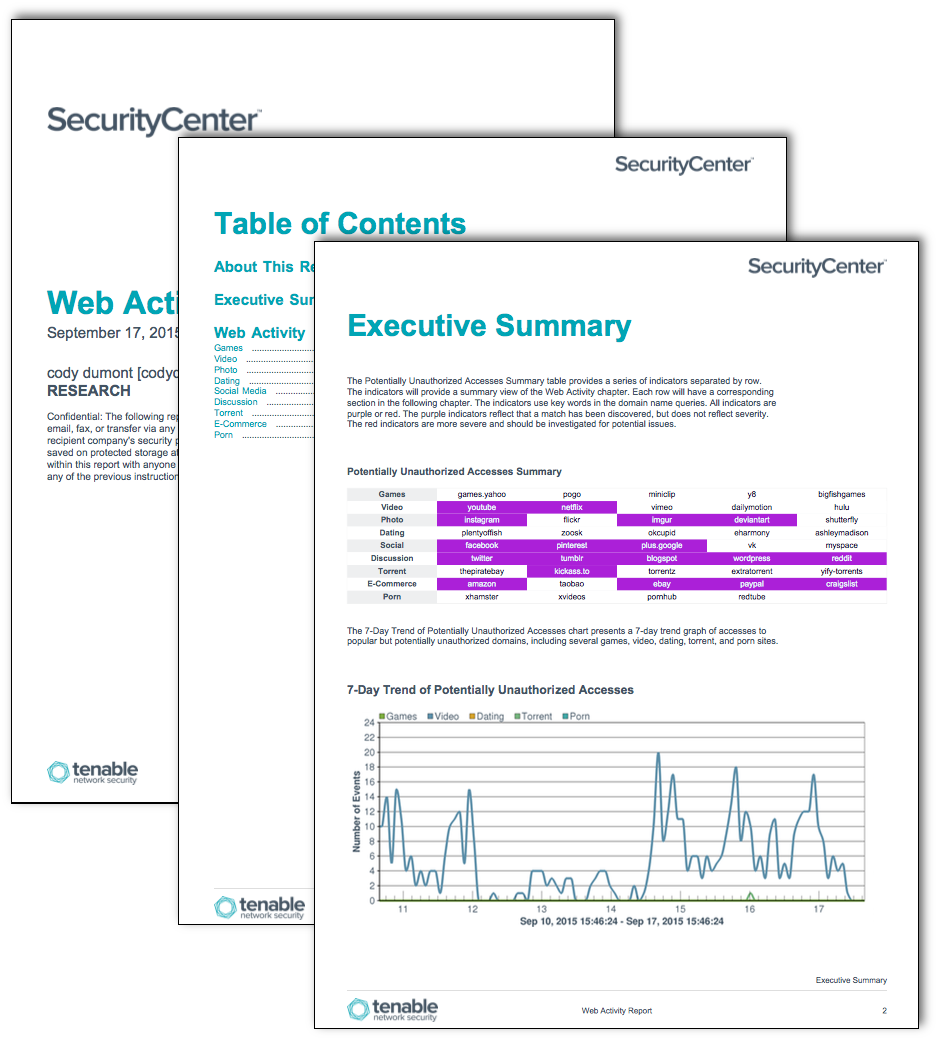 Monitoring web activity for known threats or other related vulnerabilities is often difficult for security operations.  Many organizations have content filters, anti-virus gateways, and intrusion detection/prevention systems; but security analysts often times do not have direct access to the logs for these systems.  SecurityCenter Continuous View (CV) allows the operations team to monitor web activity via sniffing DNS requests and monitoring related traffic.
Monitoring DNS activity can be accomplished by setting the Passive Vulnerability Scanner (PVS) to monitor communication paths between clients and DNS servers. Additionally the DNS server can be configured send logs to the Log Correlation Engine (LCE).  LCE then creates summary events of DNS queries and the information can be logged and analyzed.  The report uses the Domain_Summary, Domain_Failure_Summary, and SSL_Cert_Summary events, which all provide lists of domains accessed.  Searches are performed within these events to find specific domains of interest. Each summary event for a given IP address provides the domains accessed by that IP address since the last such event for that system (which may be as often as hourly). The report components can be altered as needed to add or remove domains of interest. If failed attempts to access domains do not need to be tracked, remove the Domain_Failure_Summary event from the filters in the components.
There are two key items to remember when performing DNS analysis. First, the detection of a DNS query for a site does not necessarily mean that the site was visited.  The event can be the result of site-related icons or thumbnails being displayed on other web pages. Second, this report relies on PVS detections being forwarded to the LCE. Make sure that the PVS is configured to send syslog messages to the LCE: in Configuration > PVS Settings > Syslog, include the LCE host (with port 514) in the Realtime Syslog Server List. The LCE listens for syslog messages by default.
The report is available in the SecurityCenter Feed, a comprehensive collection of dashboards, reports, assurance report cards and assets. The report can be easily located in the SecurityCenter Feed under the category Monitoring. The report requirements are:
SecurityCenter 4.8.2

PVS 4.4.0

LCE 4.6.0
Tenable provides continuous network monitoring to identify vulnerabilities, reduce risk, and ensure compliance. PVS provides deep packet inspection to continuously discover vulnerabilities and Indicators of Compromise (IOC) traveling the wire. LCE correlates real-time events, such as DNS queries, and then performs analysis to discover vulnerabilities and IOC.  LCE also has the capability to discover users, operating systems, network devices, hypervisors, databases, tablets, phones, web servers, and other critical infrastructure. SecurityCenter CV allows for the most comprehensive and integrated view of network health.
Chapters
Executive Summary: This chapter contains a matrix and line chart that provide an overview of web activity.
Web Activity: This chapter contains sections for different web traffic categories.  Each categories has a section that presents network activity related to several potentially unauthorized sites. The categories are games, video, photo, dating, social media, discussion, torrent, e-commerce,and porn.  Each section contains an indicator matrix, table displaying the IP addresses that accessed these domains , and a 7 day trend analysis of successful DNS queries, failed DNS queries, and SSL sessions related to these domains.