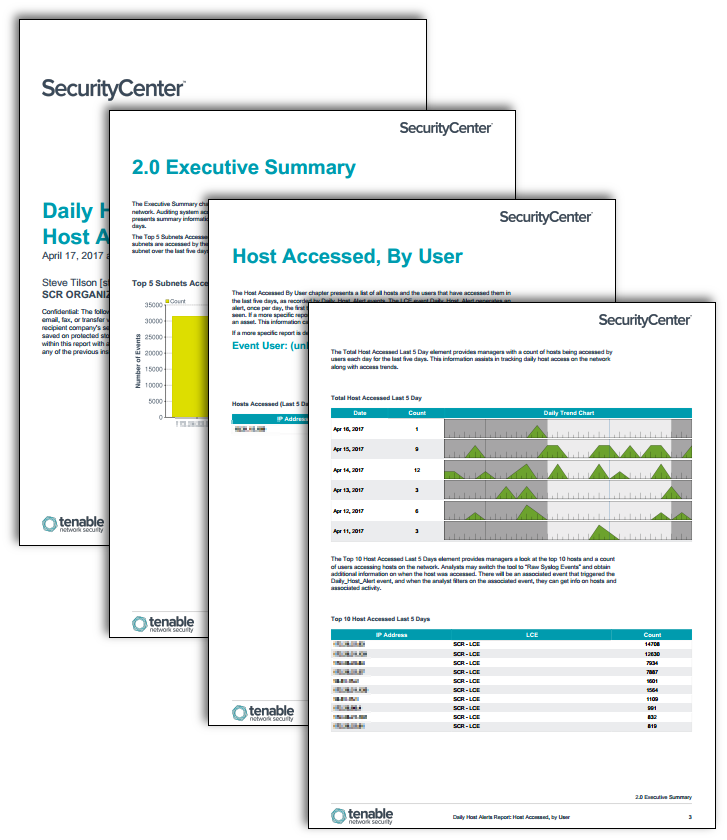 Organizations don't always know who is logging in to a host on the network. For many organizations, this may be an audit requirement, but more importantly, this is a best practice security requirement. This report presents a list of all hosts and the users that have accessed them in the last five days. Unauthorized access to the network or systems unchecked, can be catastrophic for an organization
Monitoring of host access by users adds another layer of security for an organization. User accounts can be verified against access checklists to determine if any unauthorized access or activity has occurred. Also, auditing user access across the network assists analysts in understanding which hosts are most often accessed.
SecurityCenter Continuous View (SecurityCenter CV) displays data gathered from the Tenable Log Correlation Engine (LCE). LCE collects and aggregates data from host logs, as well as raw network traffic, application logs and user activity. The "Daily_Host_Alert" normalized event generates an alert once per day, when the first time an event from a local host (such as a DNS lookup or LCE client connection) is seen. Using this event, this report can provide user access information to host IPs over the last five days. This report enhances the auditing and security process by tracking user access and providing information to help reduce the unauthorized access security risk.
This report is available in the SecurityCenter Feed, a comprehensive collection of dashboards, reports, Assurance Report Cards and assets. The report can be easily located in the SecurityCenter Feed under the category Discovery & Detection.
The report requirements are:
SecurityCenter 5.4.2
LCE 5.0.1
Tenable SecurityCenter CV provides continuous network monitoring, vulnerability identification and security monitoring. Host data and data from other security products is analyzed to monitor events captured from hosts on the network. Tenable constantly analyzes information from our unique sensors, delivering continuous visibility and critical context, enabling decisive action that transforms a security program from reactive to proactive. With this information, analysts have greater insight to monitor and determine if unauthorized access has been gained on any hosts. Tenable enables powerful, yet non-disruptive, continuous monitoring of the organization to ensure valuable information is available to analysts.
This report contains the following chapters:
Executive Summary: The Executive Summary chapter provides a broader view and breakdown of hosts accessed by users in the network. Auditing system access is necessary to maintain proper security in an organization. This chapter presents summary information about hosts being accessed by users in the environment over the last five days. 
Host Accessed By User: The Host Accessed By User chapter presents a list of all hosts and the users that have accessed them in the last five days, as recorded by Daily_Host_Alert events. This information can be used to verify that hosts are being accessing only by authorized users.