Accurately identify, investigate and prioritize vulnerabilities. For critical infrastructure and operational technology.
Safely discover not only OT assets, but IT assets in the OT environment. Identify and prioritize the most critical vulnerabilities that should be remediated immediately and the vulnerabilities that can wait until the next maintenance window.
Request More Information
Watch this video to see how Industrial Security helps you reduce your cyber risk.
What Is On Your Industrial Control System Network?
Security leaders are frequently blind to the IT and OT assets, internal and external connections, and vulnerabilities on their ICS networks. Last quarter's "as built" documentation and manual inventories are insufficient to deliver the visibility you need to protect your critical infrastructure.
Asset Inventory and Vulnerability Management For ICS
Tenable Industrial Security asset inventories and interactive topology maps deliver an up-to-date view of what must be protected. Vulnerability assessment identifies and prioritizes weaknesses that can become the pathway for adversaries to compromise control systems and disrupt critical processes. Comprehensive dashboards and reports simplify stakeholder communication.
Key Features
Converged Insight
Data integration with Tenable.sc™ provides a single platform to manage and measure cyber risk across the converged OT and IT systems that support enterprise initiatives undertaken to reduce cost, optimize processes and drive innovation.
Comprehensive Asset Discovery
Identify thousands of OT and IT devices, applications and protocols, including PLCs, RTUs, HMIs, SCADA gateways, desktop computers and network devices.
Passive Vulnerability Detection
Safely and accurately detect a wide range of OT vulnerabilities through passive monitoring (non-intrusive deep packet inspection) of network traffic. View assets and vulnerabilities by severity, count, name, and more – with OT-tailored information, including system type.
Sensor Breadth
Combine Industrial Security passive monitoring with Nessus™ Smart Scanning to maximize insight, while reducing the risk that active scanning will disrupt sensitive OT devices.
Delivery Choice
Deploy Industrial Security as traditional on-prem software that you manage or use it as a service delivered by Siemens.
Multi-Site Management
Deploy Industrial Security from Tenable across your distributed operational environment. Gain central visibility across multiple sites/plants through unified administration and a consolidated view of data from multiple Industrial Security instances.
"Cyberattacks against the Oil & Gas and Utilities sector are on the rise and growing more sophisticated and aggressive by the day. With Siemens' deep operational technology expertise and Tenable's leading cybersecurity technology, this global partnership is uniquely poised to strengthen defenses in critical infrastructure and other organizations that rely on industrial systems."
Leo Simonovich, Vice President and Global Head, Industrial Cyber and Digital Security at Siemens Energy
Learn More
Industrial Security Benefits

Asset Visibility
Automatically discover and profile the full set of operational systems, applications and services active on your production networks – and the connections between them.
Vulnerability Insight
Safely and continuously identify and prioritize vulnerabilities in sensitive ICS, SCADA, and other operational technologies that cannot be scanned due to the risk of disruption.

Unified OT and IT Security
Unify your OT and IT security with a single vendor for complete understanding of your modern attack surface.

Resource Augmentation
Siemens' technical experts are available to advise, deploy, and manage Tenable Industrial Security software.
Related Products
Accurately identify, investigate and prioritize vulnerabilities.
Managed On-Prem.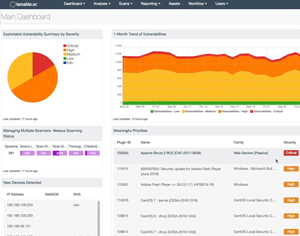 The #1 vulnerability assessment solution.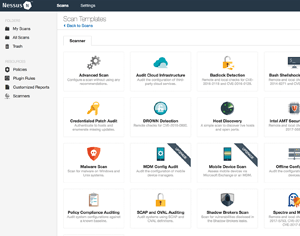 Accurately identify, investigate and prioritize vulnerabilities.
Managed in the Cloud.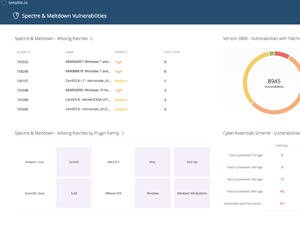 View More