Tenable Vulnerability Management
Cyberattackers In The Lead?
Here's How to Win the Race.
Between attackers' access to exploits and defenders' ability to assess and address them – who is winning?
Download Free Report
Quantifying the attacker's first-mover advantage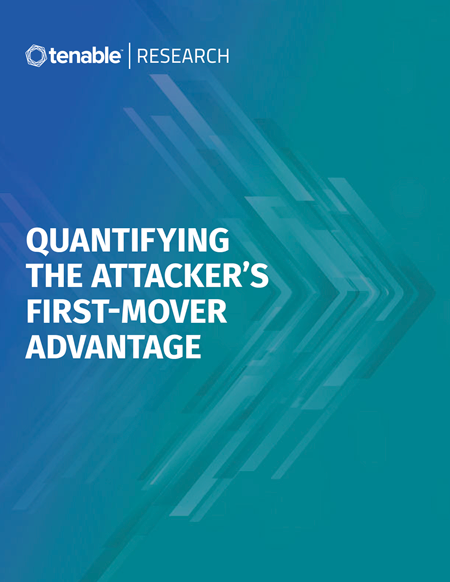 Tenable Research's analysis shows that how the race begins is a key indicator of how it will end. But, security teams have the power to reclaim the advantage by developing a risk-centric mindset and more agile vulnerability management.
Download the report now to:
Find out more about Tenable Research's analysis of the 50 most prevalent vulnerabilities
Get recommendations on how to reduce the attacker's seven-day window of opportunity
Learn how real-world threat actor activity can be leveraged to prioritize vulnerabilities for remediation and mitigate the attacker's first-mover advantage
Download the Report:
Quantifying the Attacker's First-Mover Advantage
Ready, Set, Go!
In its inaugural report, Tenable Research explores who has the first-mover advantage – cyber criminals or security teams? What's the difference in time between when an exploit is publicly available for a given vulnerability and the first time that security teams actually assess their systems? And why does this even matter to your organization?
The research team analyzed the 50 most prevalent critical and high-severity vulnerabilities from just under 200,000 vulnerability assessment scans over a three-month period. What did they find?
Alarmingly, all too often, the attackers have the advantage. On average, they have a seven-day head start on defenders. Threat actors are sprinting ahead, exploiting vulnerabilities before security teams have even left the starting blocks – before businesses even know they're at risk.
Read Tenable Research summary
-7.3
Days
On average, attackers have a 7-day head start on defenders. The median delta was -7.3 days.
24%
of analyzed vulnerabilities were being actively exploited by malware, ransomware or exploit kits in the wild.
76%
of analyzed vulnerabilities have a negative delta. Attackers usually seize the first-mover advantage.
For
34%
of analyzed vulnerabilities, an exploit was available on the same day the vulnerability was disclosed.