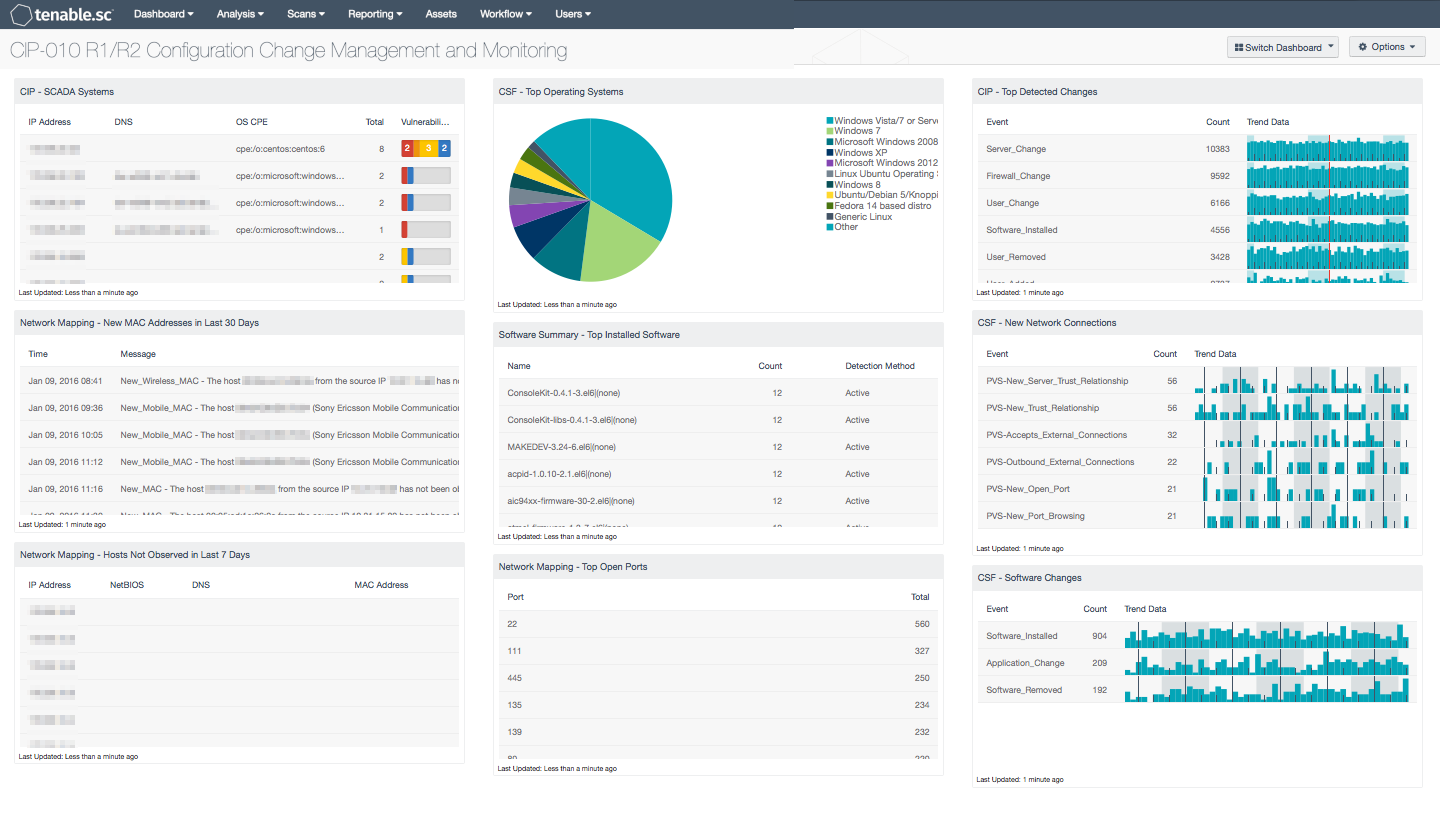 The North American Electric Reliability Corporation (NERC) is a not-for-profit international regulatory authority whose mission is to assure the reliability of the bulk power system in North America. NERC Reliability Standards define the reliability requirements for planning and operating the North American bulk power system, which serves more than 334 million people. NERC is committed to protecting the bulk power system against cyber security compromises that could lead to misoperation or instability. The NERC Critical Infrastructure Protection (CIP) Standards provide a cyber security framework for the identification and protection of Bulk Electric System (BES) Cyber Systems, to support the reliable operation of the North American bulk power system.
The purpose of CIP-010 R1 (Configuration Change Management) and R2 (Configuration Monitoring) is to establish configuration baselines, implement configuration management, and monitor for configuration changes. Configuration management and monitoring are very important to ensure that systems start from known-good configuration states and that all changes are evaluated and approved. Without good configuration management, organizations can quickly lose control over their machines and be unable to guarantee any sort of reliability or security. Changes that are made without formal risk assessment or management approval can potentially lead to costly mistakes and dangerous side effects.
For organizations that are required to be CIP compliant, Tenable.sc Continuous View (CV) can lead the way to compliance. This dashboard can assist with tracking machines on the network and identifying installed operating systems, software, and open ports. The Log Correlation Engine (LCE) plays a critical role here, as the LCE keeps track of network information and can recognize changes and trigger detected-change events. The Top Detected Changes component and others on this dashboard make use of this LCE functionality to highlight network changes, including new machines, new connections, and software changes. This dashboard can assist an organization in network configuration management and change control, which will aid in meeting the CIP-010 R1 and R2 requirements and measures. Analysts can also use this dashboard to easily drill down and gain more detailed information.
The CIP standards recommend categorizing BES Cyber Assets into different impact categories. An asset's impact category is based on the adverse impact to BES reliability that would occur if the asset was unavailable, degraded, or misused. Once the impact categories of systems have been determined, asset groups in Tenable.sc CV can be used to group together machines in each impact category. Asset groups can then be applied to this dashboard to narrow the focus and enable more accurate reporting on systems in specific impact categories. For more information on using assets with dashboards, see How to Add Assets in SecurityCenter and How to Use Assets with Dashboards. Alternatively, if the assets are in separate subnets, then subnet filters can be easily applied to narrow the focus of this dashboard.
This dashboard and its components are available in the Tenable.sc Feed, a comprehensive collection of dashboards, reports, Assurance Report Cards, and assets. The dashboard can be easily located in the SecurityCenter Feed under the category Compliance & Configuration Assessment. The dashboard requirements are:
SecurityCenter 5.2.0
Nessus 8.4.0
NNM 5.8.1
LCE 6.0.0
Tenable's Tenable.sc Continuous View (CV) is the market-defining continuous network monitoring solution. For Supervisory Control and Data Acquisition (SCADA) systems, where reliability and not interfering with normal operations is a concern, Tenable.sc CV includes passive vulnerability detection with Tenable's Nessus Network Monitor (NNM), as well as log correlation with Tenable's Log Correlation Engine (LCE). Where possible, active vulnerability detection and compliance scanning with Nessus can also be done. Using Tenable.sc CV, an organization will obtain the most comprehensive and integrated view of its SCADA network.
The following components are included in this dashboard:
CIP - SCADA Systems: This table presents the IP addresses of actively and passively detected SCADA systems, and provides a vulnerability summary for each.
Network Mapping - New MAC Addresses in Last 30 Days: This table lists all the new MAC addresses that have never been observed before on the network, and that were first observed in the last 30 days.
Network Mapping - Hosts Not Observed in Last 7 Days: This table lists those systems that were last passively observed on the network more than seven days ago.
CSF - Top Operating Systems: This component displays a chart of the top 10 operating systems (OS) detected within a network.
Software Summary - Top Installed Software: This table displays a list of the software currently discovered on the network.
Network Mapping - Top Open Ports: This table presents the top ports that were detected to be open by various active scanning techniques.
CIP - Top Detected Changes: This table displays the top detected change events over the last 15 days.
CSF - New Network Connections: This component presents a list of newly discovered network connections that were discovered by PVS and logged by LCE.
CSF - Software Changes: This table presents event trend data on Software Installations and Changes over the past 72 hours.