Attackers don't take breaks. Neither should your security program.
The threat environment is constantly changing, and security needs to enable the adoption of new technologies, such as cloud, mobile and virtualized environments. Even if you are conducting frequent point-in-time audits, can you confidently detect attackers and serious problems as they occur? You need continuous monitoring to collect real-time data across your systems, with the contextual analysis to prioritize your actions. This enables you to continuously adapt your security program to better protect and enable the business.
Tenable SecurityCenter Continuous View™ (SecurityCenter CV™) provides pervasive visibility across your environments, and the critical context to take decisive action to continuously improve your security program. In addition to identifying vulnerabilities, misconfigurations, and malware, it delivers critical context using data from sources such as network traffic, virtual systems, mobile device management, patch management, host activity and monitoring, as well as external sources of threat intelligence and known malicious indicators to feed an intelligent monitoring system.
SecurityCenter CV correlates a device's vulnerabilities, configuration, malware and other weaknesses with its internet exposure, connections and network traffic to prioritize action. SecurityCenter CV also delivers zero-touch assessment and monitoring across potentially fragile operational technology (OT) like medical devices, building management systems, and industrial control systems, including SCADA devices.
Get the Solution Story
See continuously
Learn how Tenable SecurityCenter CV gives you continuous visibility of your environment.
"Continuous monitoring isn't just continuous scanning where a new scan is initiated when the previous scan completes. It includes real-time network and host activity monitoring to provide additional context." IDC Technology Spotlight: Guarding the 3rd Platform of IT with Continuous Security Monitoring, October, 2015.
Industry-Leading Coverage, Research and Dashboards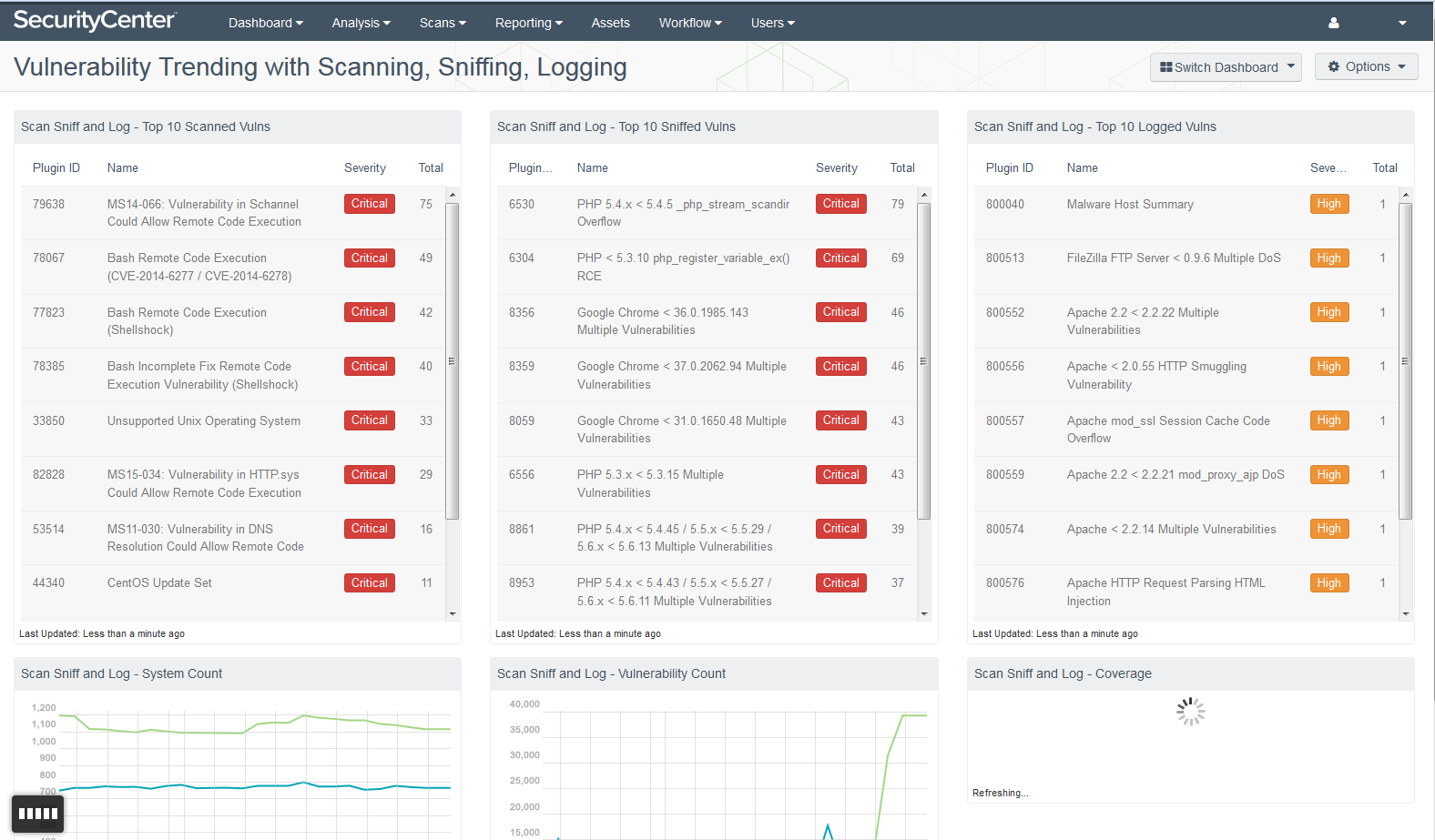 SecurityCenter Continuous View (SecurityCenter CV) collects data from multiple sensors to provide advanced analysis of vulnerability, threat, network traffic and event information and deliver a continuous view of IT security across your environment. It gives you the information you need to continuously adapt and improve your security posture to protect your organization.
Active scanning: Thoroughly analyze assets and identify vulnerabilities, misconfigurations and malware.
Continuous listening: Monitor network traffic in real-time and obtain information on which assets are connected to the network and how they are communicating.
Host data monitoring: Identify suspicious behavior as it happens by actively monitoring host activities and events, including who is accessing hosts and what is changing.
Threat intelligence: Leverage threat intelligence from leading commercial vendors to obtain critical context and identify threats in near real time, without additional licensing and configuration costs.
Dashboards and reports: Utilize a curated library of interactive dashboards and reports, updated daily, to view security information in an actionable format to speed malware hunting and kill chain disruption.