Vulnerability Management
Find and fix vulnerabilities. Faster.
Vulnerability management is the foundation of your cybersecurity program – and the key to protecting your organization. With a next-generation approach to vulnerability management, Tenable delivers a clear and present view of your program's overall effectiveness.
A successful vulnerability management program starts with a comprehensive view and deep understanding of everything on your network – all of the assets, vulnerabilities and threats.
It can be challenging to know if you're discovering all existing vulnerabilities – and prioritizing which to fix first. Are other areas of the business remediating vulnerabilities? Are you collecting and analyzing data to determine if you're improving your cybersecurity program – or not?
With Tenable, you'll know.
Tenable provides precision focus and critical context to help you easily discover the vulnerabilities associated with evolving technologies, devices, users, applications and containers. By combining vulnerability data with device log data, network traffic and threat intelligence feeds, we deliver a deeper, real-time, and prioritized picture of what truly matters most to help you reduce your attack surface – and achieve program success.
Get the Solution Story
Learn how to improve your vulnerability management program with Tenable SecurityCenter.
Industry-Leading Coverage, Research and Dashboards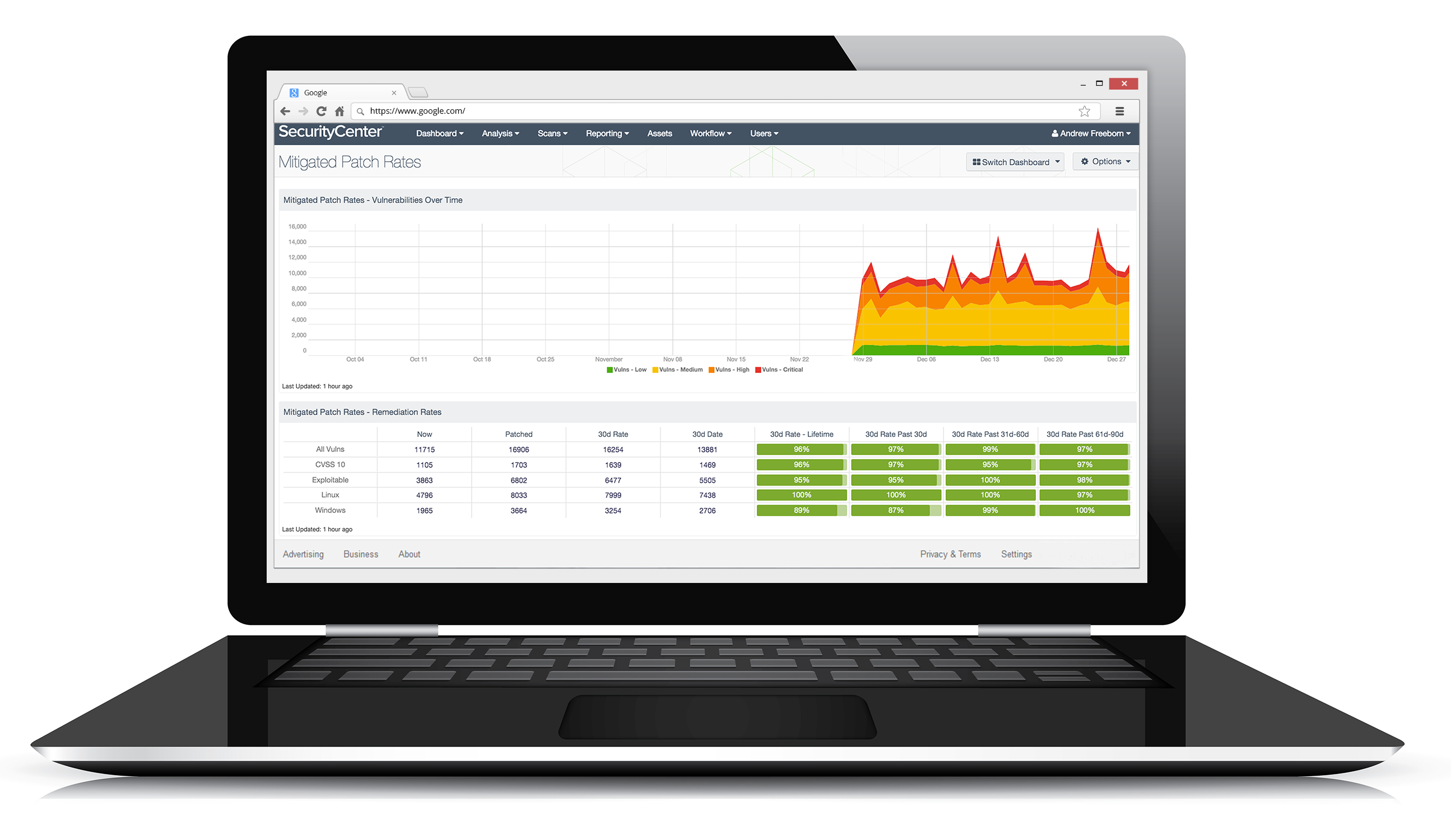 SecurityCenter delivers the industry's most comprehensive asset and vulnerability coverage. It consolidates and evaluates vulnerability data, prioritizing security risks and providing a clear view of your security posture. With its tools like pre-built, customizable dashboards and reports and the industry's only Assurance Report Cards (ARCs), you can visualize, measure and analyze security program effectiveness – and achieve program success.
Broadest coverage
Through Nessus audits and supported assets, Tenable covers nearly 30% more CVEs and 30% more technologies than competitive solutions.
Powerful communication options
SecurityCenter delivers multiple ways to display and distribute vulnerability data, including reports, dashboards and Tenable-exclusive Assurance Report Cards (ARCs).
Integrations for better collaboration
Built-in integrations with third-party solutions, such as patch management and ticketing, enable the entire organization to participate in a successful vulnerability management program.
Deep research
The Tenable world-class research team discovers and publishes checks for new vulnerabilities each day, ensuring you stay up-to-date and your IT environment remains secure.
Learn More
"The average time it takes to remediate a vulnerability: 176 days." NopSec 2015 State of Vulnerability Risk Management