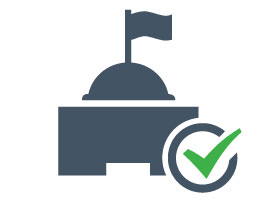 NIST-Validated SCAP Solutions
NIST's Security Content Automation Protocol (SCAP) is a set of policies for managing vulnerabilities and policy compliance in government agencies. It relies on multiple open standards and policies, including OVAL, CVE, CVSS, CPE, and FDCC policies. Tenable's NIST-certified solutions for automating SCAP compliance can easily scale to handle very large networks.
NIST SCAP Certified Solutions
Built on Tenable's Unified Security Monitoring architecture, Tenable SecurityCenter has been validated by the National Institute for Standards and Technology (NIST) for the following:
Federal Desktop Core Configuration (FDCC) Scanner
Authenticated Configuration Scanner
Authenticated Vulnerability and Patch Scanner
Unauthenticated Vulnerability Scanner
For details, see the NIST validation.
Stay Up-to-Date with Changing Standards
SCAP relies on multiple standards, which may change as the threat and desktop environments evolve. Tenable's research team works vigilantly to stay current with changing standards and threats. With Tenable, you can be sure that security audits and reporting are up-to-date and accurate.
Learn more about Tenable in government.
Try Nessus
Discover the solution that's right for you.
Try Now
Compare SecurityCenter Editions
See what version of SecurityCenter is right for you.
Compare
Demo SecurityCenter
Schedule an enterprise evaluation of SecurityCenter to see your security and compliance information in a new way.
Schedule a Demo