SecurityCenter Continuous View
"True" Continuous Monitoring
SecurityCenter Continuous View (SecurityCenter CV) collects data from multiple sensors to provide advanced analysis of vulnerability, threat, network traffic and event information and deliver a continuous view of IT security across your environment. It gives you the information you need to continuously adapt and improve your security posture to protect your organization.
The Tenable Difference: Unique Sensors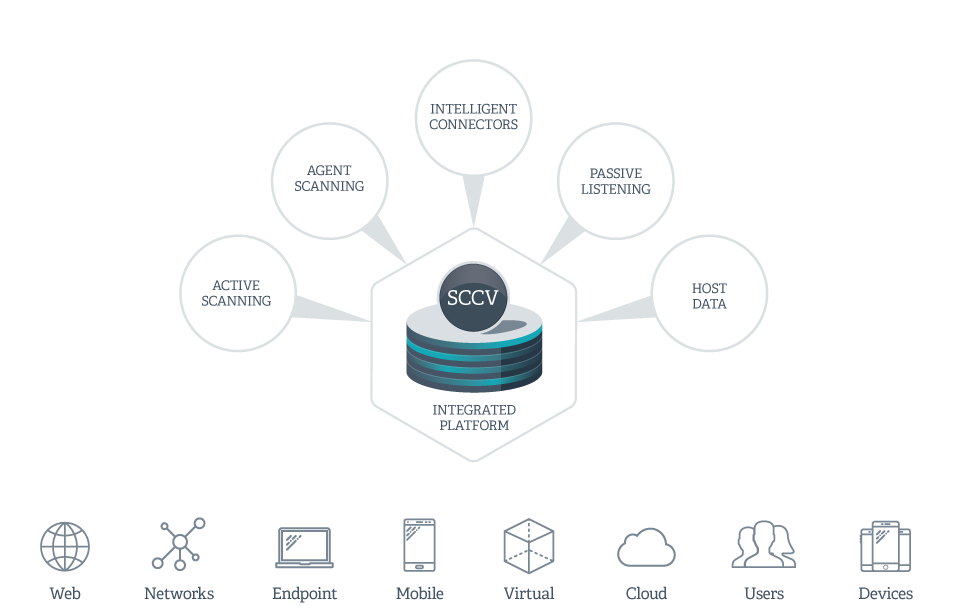 Asset Discovery
Actively search your network, passively monitor traffic, and gather information from third-party IT systems and network devices to discover all hardware, services, and web applications on your network.
Vulnerability Assessment
Actively and passively assesses systems, networks, and applications to gain unmatched depth and continuous visibility of weaknesses that threaten your security posture.
Compliance
Use pre-defined checks against industry standards and regulatory mandates, such as CIS benchmarks, DISA STIG, FISMA, PCI DSS, HIPAA/HITECH, SCAP and more. Get the visibility and context you need to easily demonstrate adherence to multiple compliance initiatives
Malware Detection
Gain critical context with built-in threat intelligence that detects malware and identifies suspicious traffic to blacklisted external sites.
Anomaly Detection
Detect anomalous behavior automatically. SecurityCenter CV analyzes your network to learn what is normal and establish a baseline. Then it alerts you to unusual or suspicious behavior in real time.
Integrations
Utilize intelligent connectors to integrate with leading solutions in patch management, mobile device management, threat intelligence, cloud, and more. Integrations leverage existing security investments to provide additional data and improve visibility, context and analysis.
Alerting and Notification
Utilize customizable alerts, notifications, and actions to enable rapid response. Quickly alert administrators to high-priority security events, speed up incident response and vulnerability remediation, and reduce overall risk.
Vulnerability Analytics
Consolidate and analyze all vulnerability data gathered SecurityCenter CV across your enterprise. Use Assurance Report Cards (ARCs) to measure, analyze, and visualize your security program and evaluate program effectiveness.
Leverage pre-built, highly customizable HTML5-based dashboards and reports. Quickly give CISOs, security managers, analysts, and practitioners the visibility and context they need to take decisive action to reduce exposure and risk.
It's a home-run with an all-in-one Tenable solution that enables me to prioritize security risks and assess security posture of my enterprise at any time
–Healthcare Service Provider
Getting Started
Demo SecurityCenter Continuous View
See how SecurityCenter Continuous View can work for your organization.
Questions?
Get immediate sales assistance or more information on SecurityCenter Continuous View.
Start Chat