Nessus Vulnerability Scanner
Industry standard vulnerability, configuration, and compliance assessment with 20,000+ customers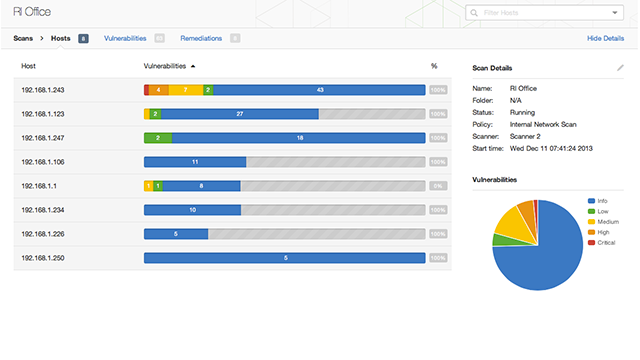 With over 20,000 customers, Nessus® is the industry's most widely-deployed vulnerability, configuration, and compliance scanner.
Nessus features high-speed asset discovery, patch and configuration auditing, asset profiling, sensitive data discovery, patch management integration, multi-scanner control, and vulnerability analysis.
With the world's largest continuously-updated library of vulnerability and configuration checks Nessus is the gold standard for speed and accuracy.
Largest Collection of Network Security Checks
Whether you're familiar with the network you're scanning or auditing the unknown, and whether or not you have credentials, Nessus has you covered. Nessus will identify hosts and list vulnerabilities and misconfigurations on the network.
Broad Asset Coverage & Profiling
Discovers a wide variety of physical and virtual devices on your corporate network and identifies the operating systems, applications, databases, and services running on those assets.
Mobile Device Auditing
Integrates with Apple® Profile Manager, Microsoft® Exchange via Active Directory®, MobileIron MDM, and Good Technology™ Good for Enterprise to provide a comprehensive view of an organization's mobile/BYOD environment and its vulnerability status.
Botnet/Malicious Process/Anti-virus Auditing
Detect known or suspicious malicious processes and botnets. Nessus enhances an organization's anti-virus strategy by red-flagging threats that often slip through the cracks, helping fight malware and advanced persistent threat (APT).
Patch Management Integration
Integrates with patch management systems – IBM® Tivoli® Endpoint Manager (TEM) for Patch Management, Microsoft® SCCM, Microsoft® WSUS, Red Hat® Network Satellite Server, and VMware® Go – to retrieve status information for devices being managed by those systems.
Sensitive Content Auditing
Performs agentless content audits of Windows- and UNIX-based systems to identify sensitive information (PII - credit cards, SSNs; "Top Secret"; employee data) and adult content. Use Nessus to audit and enforce policies that lower your organization's risk of breach or data loss.
SCADA/Control Systems Auditing
Using SCADA plugins available through a partnership with Digital Bond, Nessus scans SCADA devices to find known and newly-discovered vulnerabilities. Nessus also audits compliance with configuration policies and best practices for SCADA environments.
Extensive Configuration & Compliance Auditing
Nessus Audits:
Anti-virus vendor audits
CERT recommendations
CIS and NSA best practice guides
DISA STIGs
GLBA guidelines
HIPAA profiles
NIST SCAP and FDCC content
PCI configuration requirements
Recommended vendor settings
Check Point firewall configurations
Cisco router and firewall configurations
Juniper router, firewall, and network switch configurations
Palo Alto Networks firewall configurations
Multi-scanner Support, Post-scan Analysis, & Customized Monitoring
Nessus provides users with multi-scanner control, email notifications of scan results, a remediation report, enhanced post-scan analysis tools, vulnerability modifications, and suggestions for more complete audits.
Vulnerability Modifications
Change the severity of findings or suppress them for a single host, a single scan, all future scans, or a specific time period. When combined with other Nessus features, users enhance the power of Nessus for daily vulnerability management.
Built-in Scanning Recommendations
Every network is different, and tuning your Nessus scan policy can yield great results. Nessus analyzes the scan results for your environment and the scan settings that were used, and then suggests improvements for a more complete audit.
Attachments Stored in Scan Reports
Scan results contain remote screenshots via RDP and VNC, as well as "pictures" of scanned websites, providing easy access to supporting information for post-scan vulnerability analysis and documentation.
Remediation Report
Providing an actionable list to help with remediation efforts, Nessus summarizes the actions to take to address the largest quantity of vulnerabilities on the network. The report is included in scan summary email notifications, as a report chapter, and on the Remediations tab in the user interface.
Targeted Email Notifications
Nessus can send an email summary of completed scan results and remediation recommendations to selected recipients. For individual scans or in conjunction with scan scheduling, Nessus can monitor for specific conditions and deliver findings to the right people.
Grows as You Grow
Extend scanner coverage as your organization grows by connecting additional Nessus scanners to Nessus Enterprise. Organizations with multiple Nessus scanners for different network segments and geographical locations can control all their scanners from one place.
Try Nessus
Register for a free 7-day Nessus evaluation for your organization.
Evaluate
Buy Nessus
Purchase Nessus through a Partner or on the Tenable online store.
Buy
Try Nessus Enterprise
Share scanners, policies and reports between teams.