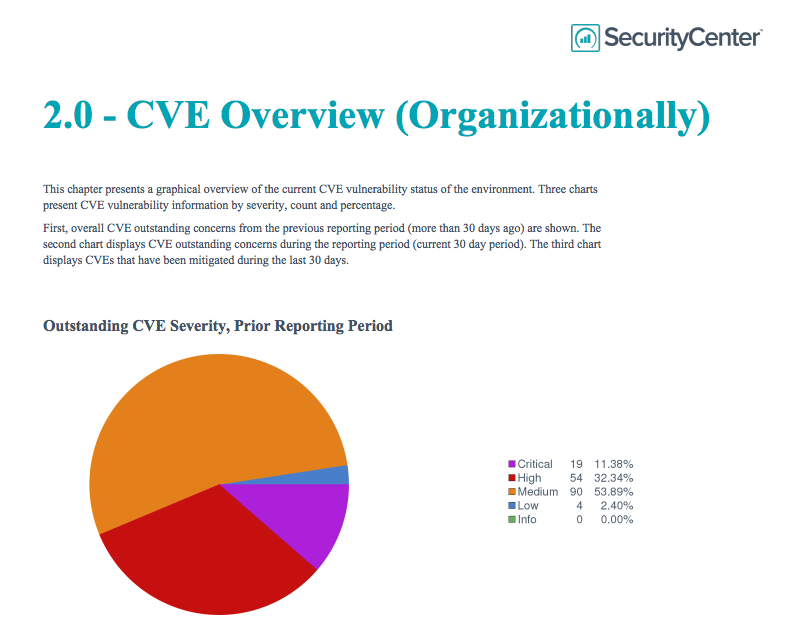 This high level report displays CVE vulnerability details for the years 2010 - 2014.
The first chapter provides a graphical overview of CVE vulnerabilities in 3 pie charts that represent both vulnerabilities and recently mitigated vulnerabilities. Presented is a graphical overview of the current CVE vulnerability status of the environment. These three charts present CVE vulnerability information by severity, count and percentage.
First, overall CVE outstanding concerns from the previous reporting period (more than 30 days ago) are shown. The second chart displays CVE outstanding concerns during the reporting period (current 30 day period). The third chart displays CVEs that have been mitigated during the last 30 days. The second section of this report contains a bar chart that displays vulnerabilities by host. This is followed by a section that provides details on the top 10 vulnerabilities, along with quick wins to implement for mitigation.
The report is available in the SecurityCenter Feed, a comprehensive collection of dashboards, reports, assurance report cards and assets. The report can be easily located in the SecurityCenter Feed under the category Threat Detection & Vulnerability Assessments. The report requirements are:
SecurityCenter 4.7.1
Nessus 5.2.5
LCE 4.2.2