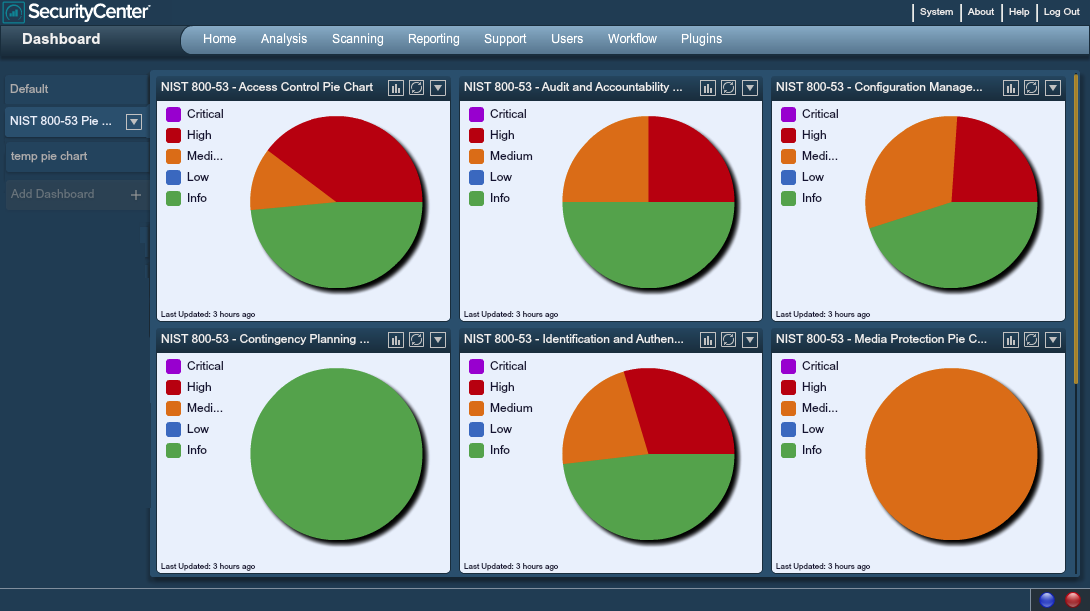 The dashboard provides nine pie charts of an organization's compliance with NIST 800-53 standards, based on the FIPS 200 Publication families.  The components in this dashboard use newly updated audit files (released after 1 July 2013), which incorporate a new reference tag that maps many audit checks to a respective standard.  In the case of this dashboard the audit files must contain "800-53|AC-1" on the reference line of the applicable audit check.
For example 'reference: CCE|CCE-8912-8,800-53|IA-5,PCI|8.5.12,800-53|CM-6'
In the screen shot below, you can see the reference added.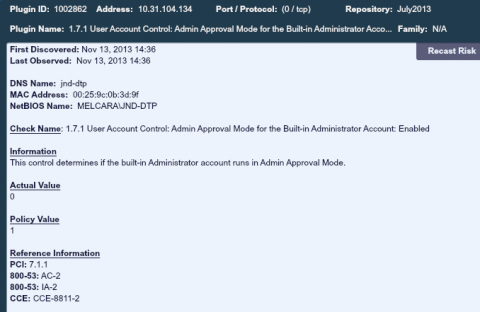 Please note that if you are creating you own filters and reports, the "800-53: AC-2" shown in the example is actually "800-53|AC-2" in the data query.
The dashboard and its components are available in the SecurityCenter Feed, a comprehensive collection of dashboards, reports, assurance report cards and assets. The dashboard can be easily located in the SecurityCenter Feed under the category Compliance & Configuration Assessments.
The dashboard requirements are:
SecurityCenter 4.7.1

Nessus 5.2.4

Updated Audit Files from the Support Portal (Release date after 1 July 2013)
Listed below are the included components:
NIST 800-53 - Access Control Pie Chart

NIST 800-53 - Contingency Planning Pie Chart

NIST 800-53 - Physical and Environmental Protection Pie Chart

NIST 800-53 - Audit and Accountability Pie Chart

NIST 800-53 - Identification and Authentication Procedures Pie Chart

NIST 800-53 - System and Services Acquisition Pie Chart

NIST 800-53 - Configuration Management Pie Chart

NIST 800-53 - Media Protection Pie Chart

NIST 800-53 - System and Communications Protection Pie Chart