Passive Vulnerability Scanner
The Global Standard for Passive Vulnerability Scanning
Tenable's Passive Vulnerability Scanner™ (PVS™) is the industry's only continuous vulnerability monitor that identifies server- and client-side vulnerabilities in new or transient assets.
Critical Capabilities
Uncovers Assets Difficult to Detect
Detects unauthorized devices such as BYOD and virtual
Finds Inappropriate Activity and Misuse
Documents associations putting you at risk
Scans Sensitive Systems Safely
Scans sensitive systems safely without credentials
Identifies Data Flows for Compliance
Details otherwise undocumented data flow necessary for compliance
Monitors Everywhere
Automatically discovers users, infrastructure and vulnerabilities across more technologies than any other vendor, including operating systems, network devices, hypervisors, databases, tablets, phones, web servers, cloud applications, and critical infrastructure.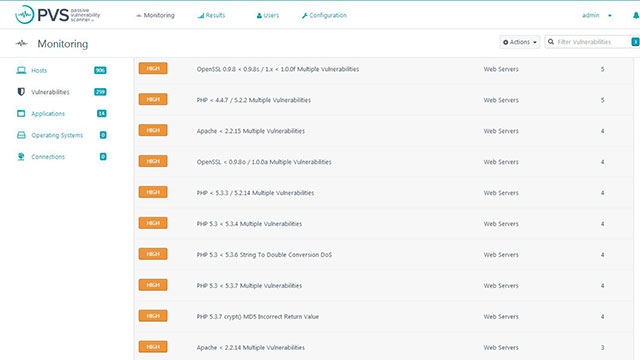 Integrates with Other Tenable Products
So powerful, PVS is already built into SecurityCenter Continuous View™, can be integrated with other Tenable™ products, and is also available as a separate software subscription.