Nessus Enterprise
Nessus Enterprise enables sharing of vulnerability scanning resources across your IT, audit and security team members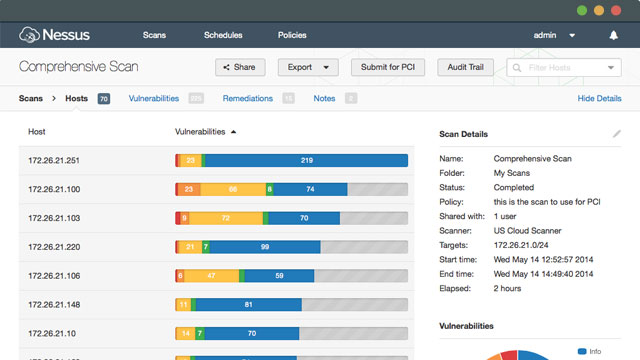 Nessus Enterprise
Powerful resource sharing and collaboration features in Nessus® Enterprise saves cost and time by making it easy for teams, including security analysts and auditors, system owners, IT and network admins to share scanners, scan schedules, scan policies and most importantly, scan results of Nessus, the worlds' most widely deployed vulnerability scanner.
Nessus Enterprise is available for on-premise deployment or as a Tenable-hosted solution as Nessus Enterprise Cloud.
Resource Sharing
Nessus Enterprise now makes four different resources available for sharing among users and groups; scanners, scan schedules, scan policies, and scan results. Resource sharing makes it easy to control access to vulnerability scanning and remediation within your organization regardless of location, network complexity, or any of the numerous regulatory or compliance drivers that demand keeping your business secure.
Scanners
You can deploy scanners throughout your segmented network, dedicate scanners to particular admin and/or development groups, or deploy across physical locations. Scanners can be designated to specific users or groups, or you can allow everyone to access one or more scanners – entirely based on your unique needs.
Policies
You can allow or limit access to policies based on user or group permissions. This enables you to control who can perform various degrees of noisy or possibly disruptive scanning, or limit who can perform credentialed scans. Only give the standard users access to what they need to perform their job functions and no more or less.
Schedules
The ability to create any type of scan schedule you'd like – recurring, targeted, comprehensive, focused – and grant access for specific users or groups to be able to execute them, or even let them create their own schedules based on the policies that you've allowed them to access.
Reports
Reports generated by any of the scanners under the control of Nessus Enterprise are stored within Nessus Enterprise itself; you no longer need to log into individual scanners to pull down the results of scans or audits. You control who can view and/or manage reports by user level as well as user and group access permissions.
User levels
Nessus Enterprise allows for the addition of multiple users and introduces four user roles. Each user may be assigned various levels of access to resources based on individual or group association. The System Administrator or Administrator has the authority to manage users and groups. Groups can be established based on departments, job function, duties or responsibilities, geography – whatever works best to fit your specific needs.
System Administrator
Assigned to the User who owns the Nessus Enterprise subscription and has the ability to configure the Nessus Enterprise server as well as all other admin/standard user functions
Administrator
All standard user capapilities plus the ability to add and assign users, groups, and resources; limited administrative functions
Standard
Typical user who only has access to the resources that have been assigned through user/group permissions to launch scans from designated scanners using available schedules and policies
Read Only
This level of user can only login and view scan results/reports that have been authorized based on user/group permissions.
LDAP Authentication
For users that choose to download Nessus Enterprise and deploy it on site, you have the additional benefit of being able to tie-in to your existing LDAP authentication system to streamline the process of adding users as well being able to take advantage of your existing user authentication methods. You may also add your mail server to the configuration to facilitate emailing scan results to the intended recipients. These additional features are only available for Nessus Enterprise deployed on-premise.

Complementary Solutions
Nessus® Vulnerability Scanner
Nessus is the industry's most widely-deployed vulnerability, configuration, and compliance scanner. Nessus features high-speed discovery, configuration auditing, asset profiling, malware detection, sensitive data discovery, patch management integration and vulnerability analysis. With the world's largest continuously-updated library of vulnerability and configuration checks and the support of Tenable's expert vulnerability research team, Nessus sets the standard for speed and accuracy.
SecurityCenter™
SecurityCenter Continuous View is the only integrated vulnerability, threat and compliance management solution on the market that combines data from vulnerability assessments, asset information, network sniffing and activity event logs. This capability provides crucial context that no other solution can provide, improving vulnerability management, threat detection, incident response time and accelerating forensic analysis.
Try Nessus Enterprise
Register for a free 15-day Nessus Enterprise evaluation for your organization.
Try Now
Buy Nessus Enterprise
Purchase Nessus through a Partner or on the Tenable online store.
Buy
Questions?
Get immediate sales assistance or more information on Nessus.
Start Chat