On-Demand Webinar
What's New in Tenable.io
Web Application Scanning
Container Security
Duration: 20 minutes
The Tenable.io platform is rapidly maturing with important features added each week. Please join us for a customer webinar where we'll discuss these new enhancements in Tenable.io, Tenable.io Web Application Scanning, and Tenable.io Container Security. This webinar will cover:
Tenable.io
Enhanced customer dashboard capabilities that include a pre-configured widget library and the ability to create a fully customizable dashboard from a blank canvas.
New cloud connectors for Microsoft Azure and Google Cloud Platform to gain real-time visibility into cloud assets.
Advanced RBAC roles supporting scan manager and scan administrator for greater flexibility in managing access to services and data within Tenable.io.
A new licensing information page to provide greater transparency into your licensed asset counts within Tenable.io.
Tenable.io Web Application Scanning
New Chrome extension to make it easier for you to create and manage web application scans from within the web application you want to scan.
Enhanced web application component vulnerability coverage supporting web application servers, JavaScript libraries, language engines, web frameworks, and SSL/TLS weaknesses.
Tenable.io Container Security
New container security capabilities provide operational visibility into running containers and help identify security issues after deployment.
Improved Container Security Scanner architecture that focuses on assessing and storing container image metadata and digest information, allowing you to keep your sensitive intellectual property and source code on-premises.
Speakers: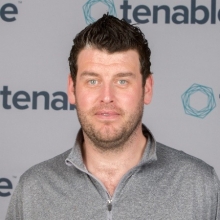 David Bradley
Security Engineer, Tenable
Watch Now