On-Demand Webinar
Die Zukunft gehört dem Business-orientierten Sicherheitsverantwortlichen
Cybersecurity und Business in Einklang bringen
Analyst Relations
Research
Risk-based Vulnerability Management
Tenable Vulnerability Management
Tenable Security Center
Tenable Security Center Plus
Tenable Lumin
On-demand
"The Rise of the Business-Aligned Security Executive" - eine von Forrester Consulting in Auftrag gegebene und im Auftrag von Tenable durchgeführte Studie - zeigt, dass Cybersicherheit selten vollständig in die Geschäftsstrategie integriert ist - aber das muss sie sein.
Die einzige Möglichkeit, im Zeitalter der digitalen Entwicklung erfolgreich zu sein, besteht darin, Cybersicherheit in alle geschäftlichen Fragen, Entscheidungen und Investitionen zu integrieren. Organisationen mit Sicherheitsverantwortlichen und Geschäftsführern, die sich bei der Messung und dem Management von Cybersicherheit als strategisches Geschäftsrisiko aufeinander abgestimmt haben, liefern nachweisbare Ergebnisse.
Es ist also entscheidend, den Geschäftskontext besser zu verstehen, aber ebenso wichtig ist es, sich darüber im Klaren zu sein, dass die vorhandenen Asset-Management- und Konfigurationsdatenbanken selbst mit einem solchen Verständnis nur bis zu einem bestimmten Punkt helfen können. Statische Ansätze reichen kaum aus, um den Realitäten der modernen Angriffsoberfläche Rechnung zu tragen, die eine dynamische Mischung aus On-Premises- und cloudbasierter IT, Internet of Things (IoT) und operativer Technologie umfasst.
In unserem Webinar stellen wir die Ergebnisse der Studie vor, die auf einer Umfrage unter 416 Sicherheitsverantwortlichen und 425 geschäftlichen Führungskräften in 10 Ländern basiert und zeigen anschließend auf, wie Sie die Frage "Wie sicher sind bzw. gefährdet wir?" zukünftig mit einem hohen Maß an Zuversicht beantworten können.
Für wen ist dieses Webinar interessant?
Dieses Webinar richtet sich an IT Security-Experten, die dafür verantwortlich sind, die Wirksamkeit des Schwachstellenmanagements in ihren Organisationen sicherzustellen.
Sichern Sie sich am besten noch heute Ihren Platz.
Speakers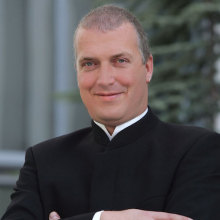 Jens Freitag
Senior Security Specialist
Jetzt anmelden