Virtual Environment Monitoring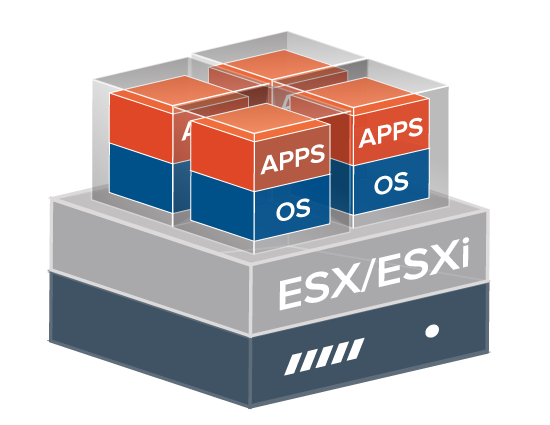 Visibility Into Your Virtualized Infrastructure
Tenable offers a range of virtualization security solutions. Nessus® and SecurityCenter™ Continuous View provide periodic assessments and continuous monitoring of your virtualized environment.
Nessus performs audits against the VMware vSphere platform, as well as the software running on it. With Nessus, users have complete visibility to address virtual machine (VM) sprawl, unpatched software, and misconfigured ports and services.
In addition, SecurityCenter Continuous View identifies the virtual infrastructure and associated risk as soon as it comes online without having to wait for the next scheduled scan.
Nessus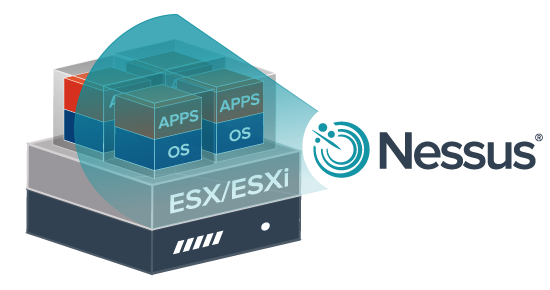 Network-based Vulnerability Scanning
Without credentials, Nessus determines the number of VMware ESX / ESXi / vCenter / View virtual machines on your network and their location.
After detecting VMs, Nessus identifies vulnerabilities using network-based vulnerability checks.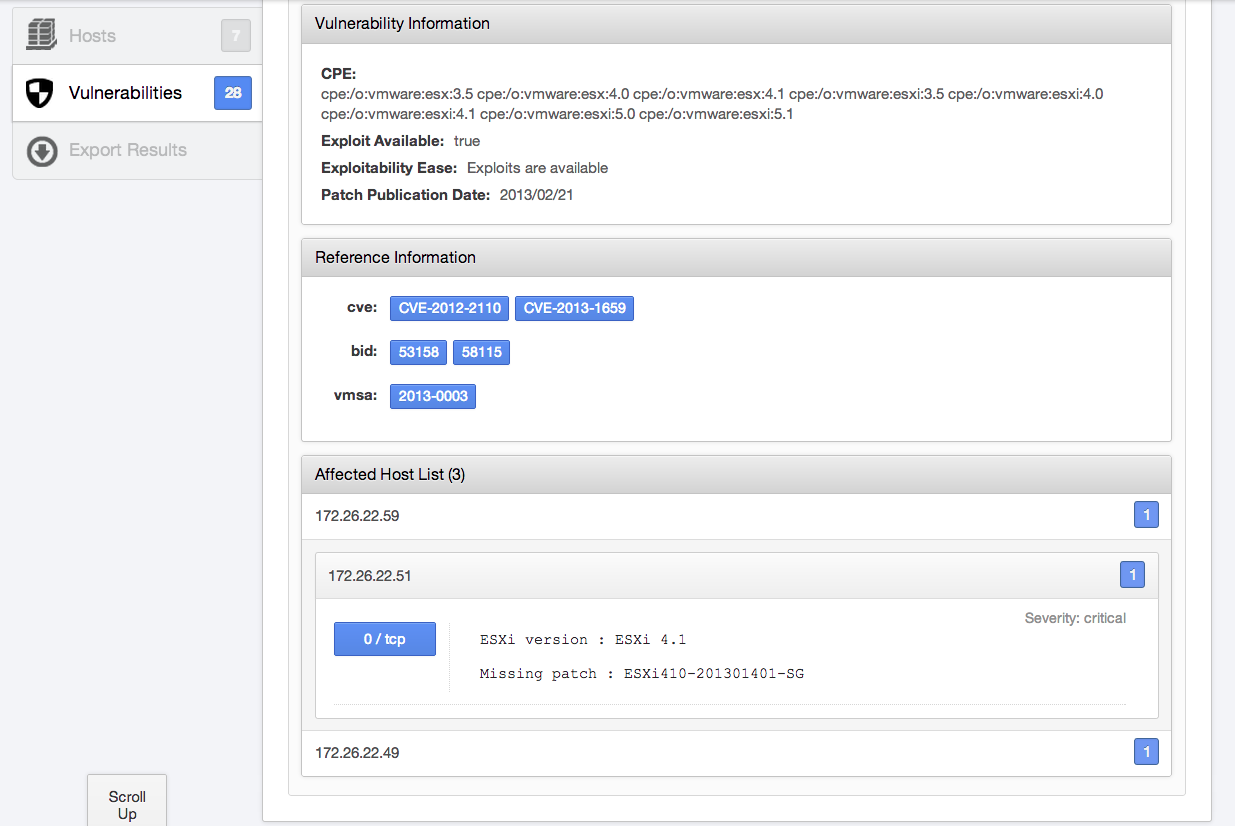 Patch Auditing
After VMs are identified, Nessus scans them using credentials to perform patch auditing and pull configuration information for hosted VMs. Nessus reports the missing patches for each ESX / ESXi / vCenter / View virtual machine that is scanned.
In addition, Nessus can log in and pull information from VMs, such as active and inactive VMs on the host. This information is useful to continually audit your virtualized environment, and acting on it can help prevent VM sprawl.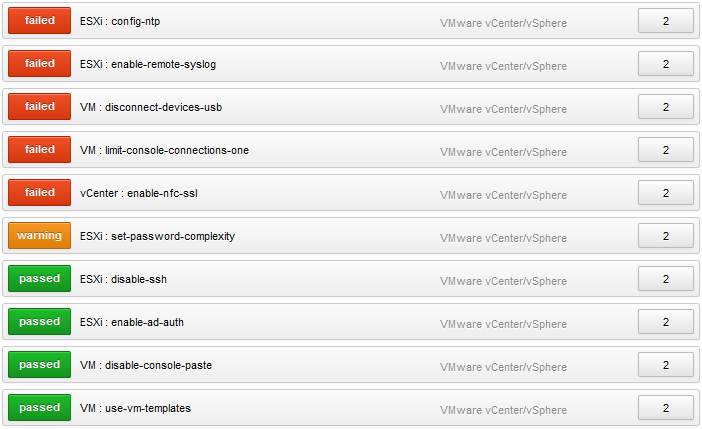 Configuration and Compliance Auditing
Nessus performs VMware configuration and compliance audits, and supports ESXi 4.x / 5.x and vCenter 4.x / 5.x.
Tenable supplies Nessus users with customizable compliance auditing files, which: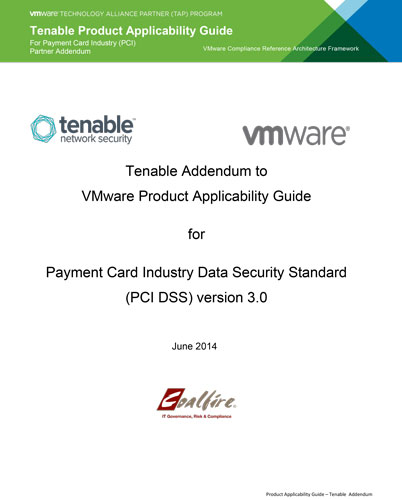 Whitepaper: VMware Product Applicability Guide for PCI DSS 3.0
Tenable Network Security is the first VMware Technology Alliance Partner to have its products reviewed for applicability to version 3.0 of the Payment Card Industry Data Security Standard (PCI DSS).
SecurityCenter Continuous View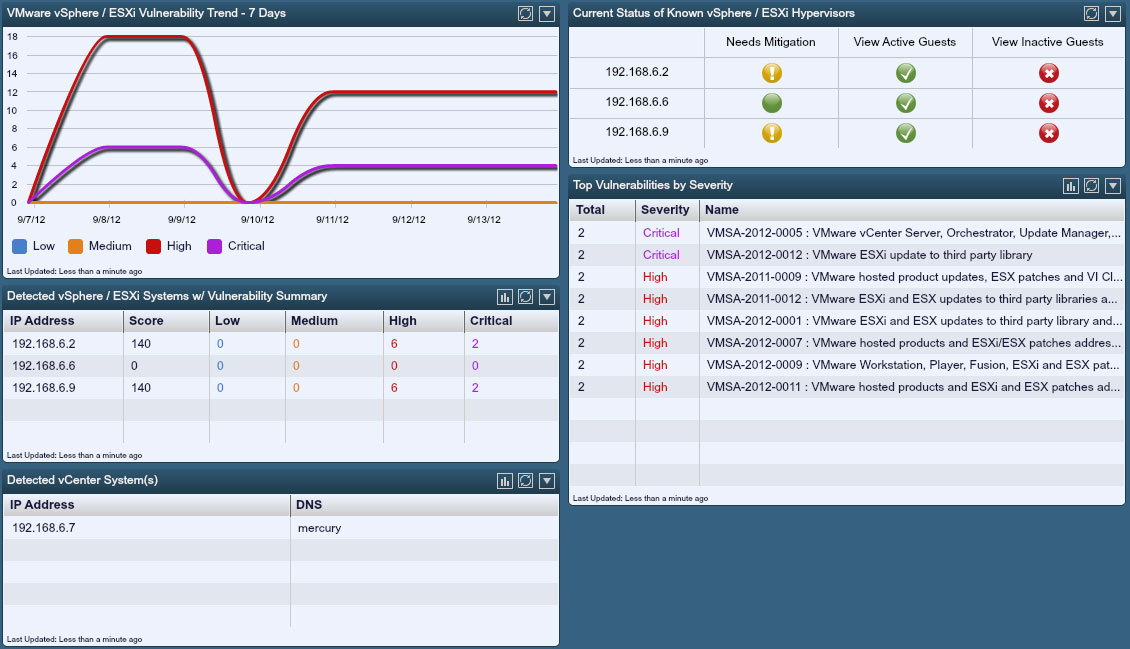 Audits virtual machines on ESX, ESXi, vSphere, and vCenter platforms
Automatically discovers virtual assets as they come online and continuously tracks risk.
Identifies misconfigurations on the hypervisor, guest operating system, and applications running on the virtual images.  Audits configuration against compliance standards (ex. CIS) or custom requirements.
Enables administrators of virtual systems to manage  just the assets they own and only see what matters to them
Groups virtual machines into a variety of Dynamic Asset Groups based on customer priority.
Performs attack path analysis to highlight critical, Internet facing, and exploitable vulnerabilities first
Identifies missing patches for each virtual system in your environment
Validates patching by cross checking discovered vulnerabilities with major patch management systems including VMware GO.
Tracks trust relationships with other physical and virtual systems to correlate exposure to connected virtual and physical infrastructure
Helps prioritize response to issues with full context of virtual and physical systems
Continuously monitors for threats, vulnerabilities, and malware on hosts and virtual systems to improve security response
Identifies critical changes to your host and virtual systems and reassesses risk posture for faster response
Provides context and forensics from active, passive, and log analysis for decisive response
Offers granular dashboards, reports, and filtering to pinpoint and isolate root cause of threat and compliance issues.