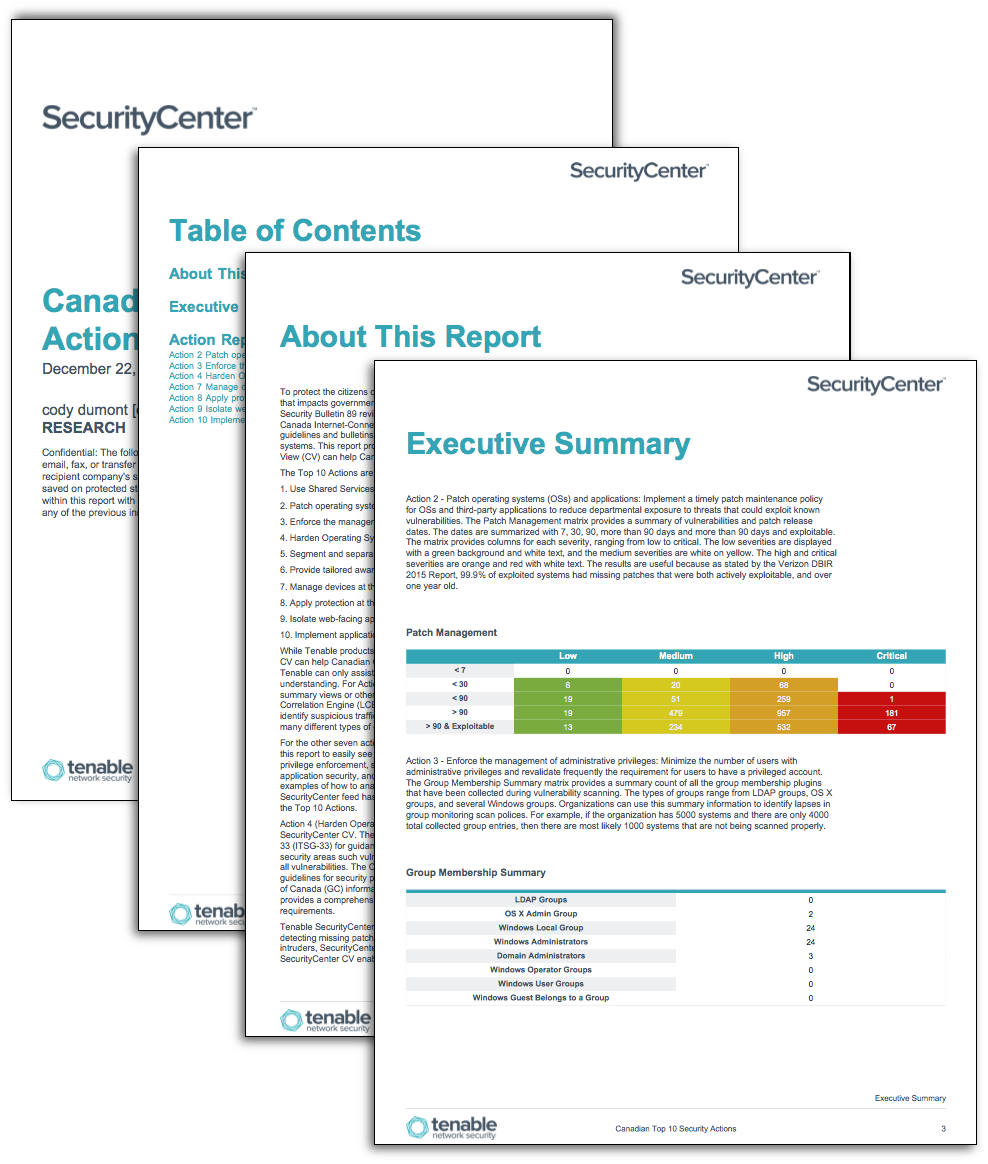 To protect the citizens of Canada, the Canadian Government has analyzed trends in cyber threat activity that impacts government Internet-connected networks. The result of the study is Information Technology Security Bulletin 89 revision 3 (ITSB-89 rev.3), "Top 10 IT Security Actions to Protect Government of Canada Internet-Connected Networks and Information". The Canadian Government provides a series of guidelines and bulletins to assist government offices and private businesses in securing their information systems. This report provides executive-level content that demonstrates how Tenable.sc Continuous View (CV) can help Canadian organizations comply with regulations and best practices.
The Top 10 Actions are:
Use Shared Services Canada (SSC) Internet gateways
Patch operating systems (OSs) and applications
Enforce the management of administrative privileges
Harden Operating Systems (OSs)
Segment and separate information
Provide tailored awareness and training
Manage devices at the enterprise level
Apply protection at the host level
Isolate web-facing applications
Implement application whitelisting
While Tenable products cannot directly address each of these actions, the data collected by Tenable.sc CV can help Canadian Government agencies in addressing each of these actions. For actions that Tenable can only assist with, such as 1, 5, and 6, Tenable.sc CV can provide context and a deeper understanding. For Action 6, for example, the security operations team can easily use the vulnerability summary views or other reports to illustrate current security threats. Agencies that use Tenable's Log Correlation Engine (LCE) and Nessus Network Monitor (NNM) can monitor network flows and easily identify suspicious traffic patterns, which can help with Actions 1 and 5. This report provides a sampling of many different types of data collected as part of active vulnerability scanning and passive listening.
For the other seven actions defined in ITSB-89 rev.3, Actions 2, 3, 4, 7, 8, 9, and 10, agencies can use this report to easily see how they measure up. These remaining seven actions include patching strategies, privilege enforcement, system hardening (ITSG-33), managing devices, host level protections, web application security, and application white listing. The elements in this report provide analysts with several examples of how to analyze the vulnerability data that will support each of the above actions. In addition, the Tenable.sc feed has a plethora of report templates that agencies can use to monitor for compliance with the Top 10 Actions.
Action 4 (Harden Operating Systems) is one of the more complicated actions and is supported by Tenable.sc CV. The action specially calls out Information Technology Security Guidance Publication 33 (ITSG-33) for guidance on system hardening. The ITSG-33 guidance specifies standards for critical security areas such vulnerability management and how agencies can effectively tackle the threat from all vulnerabilities. The Communications Security Establishment Canada (CSEC) developed a series of guidelines for security practitioners in managing information technology (IT) security risks for Government of Canada (GC) information systems. The ITSG-33, IT Security Risk Management: A Lifecycle Approach, provides a comprehensive set of security controls that are used to support a wide variety of business requirements.
This report is available in the Tenable.sc Feed, a comprehensive collection of dashboards, reports, Assurance Report Cards, and assets. The report can be easily located in the Tenable.sc Feed under the category Executive. The report requirements are:
Tenable.sc 5.4.2
Nessus 8.5.1
NNM 5.9.1
LCE 6.0.0
complianceData
Tenable's Tenable.sc CV helps to identify an agency's vulnerabilities and eliminate blind spots. By detecting missing patches, incorrect configurations, lapsed defenses, incomplete monitoring, and network intruders, Tenable.sc will be able to assist in the mitigation process and monitor for future resurgence. Tenable.sc CV enables agencies to identify risk across the entire network. With more supported technologies than other vendors, Tenable.sc CV is able to analyze vulnerabilities and collected logs from a wide range of operating systems, network devices, hypervisors, databases, tablets, phones, web servers, and critical infrastructure devices. Tenable.sc's proven approach to continuous monitoring identifies the biggest risks across the agency, and provides the security operations team with the ability to react to advanced threats, zero-day vulnerabilities, and new forms of regulatory compliance.
Chapters
Executive Summary – This chapter contains several elements that provide insight to seven supported actions.  For each element there is a paragraph describing the action.
Report Summaries – This chapter contains seven sections, one for each of the supported actions.  Within each section is more detailed summary of the data collected to support the action.