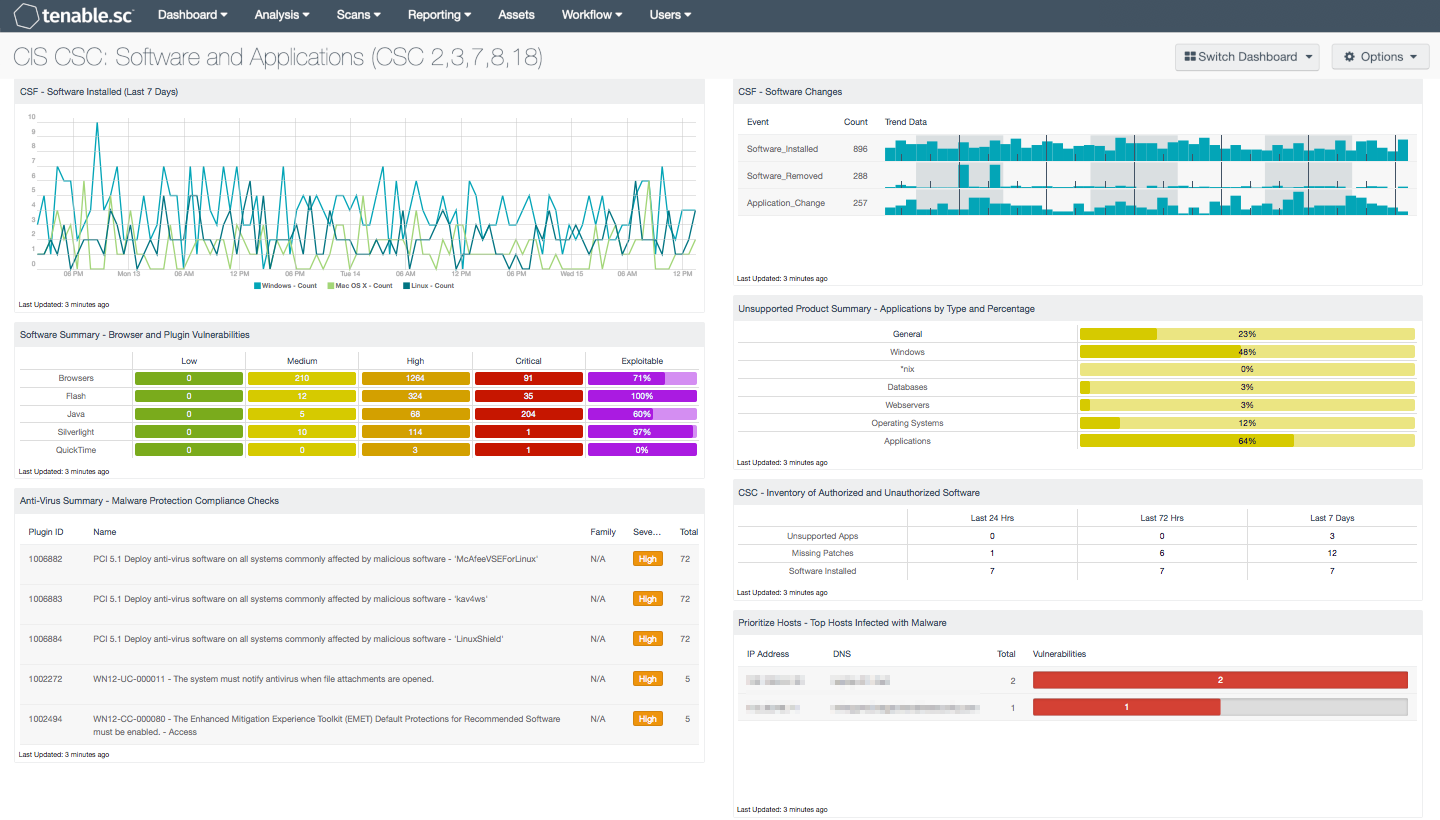 Identifying when software is installed, changed, out of date, or contains malware is important in maintaining a secure environment. This dashboard provides information to assist in protecting organizations from unwanted or potentially dangerous applications, enabling better and more efficient vulnerability management, and identifying software and application vulnerabilities within the organization.
The data presented aligns with CIS Critical Security Control 2 (CSC 2) Inventory of Authorized and Unauthorized Devices; Control 3 (CSC 3) Secure Configurations for Hardware and Software on Mobile Devices, Laptops, Workstations, and Servers; Control 7 (CSC 7) Email and Web Browser Protections; Control 8 (CSC 8) Malware Defenses; and Control 18 (CSC 18) Application Software Security.
This dashboard presents tables and indicators for events that identify when software is installed, changed or removed. Unsupported applications, missing patches, browser, and malware checks are also identified. Software and application vulnerabilities present on a network can pose risk to the organization. Evaluating and remediating software and applications vulnerabilities is critical in maintaining a secure environment.
As defined by the Center for Internet Security (CIS), the Critical Security Controls are a relatively small number of prioritized, well-vetted, and supported security actions that organizations can take to assess and improve their current security state. Developed based on specific knowledge of the threat environment and currently available technologies, the Controls are informed by actual attacks and effective defenses and reflect the combined knowledge of many experts.
Analysts can use this dashboard to easily drill down into the data presented by the dashboard components. Detailed information on software and application vulnerabilities, providing a starting point to determine what further steps are the most beneficial. This information can provide more effective and efficient vulnerability management, patching, and remediation within the organization. In turn, further assisting the organization better protect itself from exploitation of network vulnerabilities, potential intrusions, attacks, and data loss.
This dashboard and its components are available in the Tenable.sc Feed, a comprehensive collection of dashboards, reports, Assurance Report Cards, and assets. The dashboard can be easily located in the Tenable.sc Feed under the category Security Industry Trends.
The dashboard requirements are:
Tenable.sc 5.3.1
Nessus 8.5.1
NNM 5.9.1
LCE 6.0.0
Tenable's Tenable.sc Continuous View (CV) is the market-defining continuous network monitoring solution. Tenable.sc CV includes active vulnerability detection with Nessus and passive vulnerability detection with the Tenable Nessus Network Monitor (NNM), as well as log correlation with the Tenable Log Correlation Engine (LCE). Using Tenable.sc CV, an organization will obtain the most comprehensive and integrated view of its network vulnerabilities.
This dashboard includes the following components:
CSF – Software Installed (Last 7 Days) - This Software Installed component presents a trend of software installations within Windows, Linux, and Mac OS X operating systems (OS).
Software Summary – Browser and Plugin Vulnerabilities - The "Browser and Plugin Vulnerabilities" matrix component show a count of the vulnerabilities by four severity levels. The matrix component also shows as a percentage the number of exploitable hosts.
Anti-Virus Summary – Malware Protection Compliance Checks - The Malware Protection Compliance Checks component provides a summary of malware protection compliance checks.
CSF: Software Changes - This Software Changes table presents event trend data on Software Installations and Changes over the past 72 hours.
Unsupported Product Summary – Applications by Type and Percentage - This bar chart component produces a graph on the percentage of unsupported applications and operating systems in the environment sorted by product type, such as database servers, web servers, operating systems, or applications.
CSC – Inventory of Authorized and Unauthorized Software - This component displays software installs, unsupported applications, and missing patches within the last 24 hours, 72 hours, and 7 days.
Prioritize Hosts – Top Hosts with Malware - This table displays the top hosts on the network that have actively or passively detected malware infections.