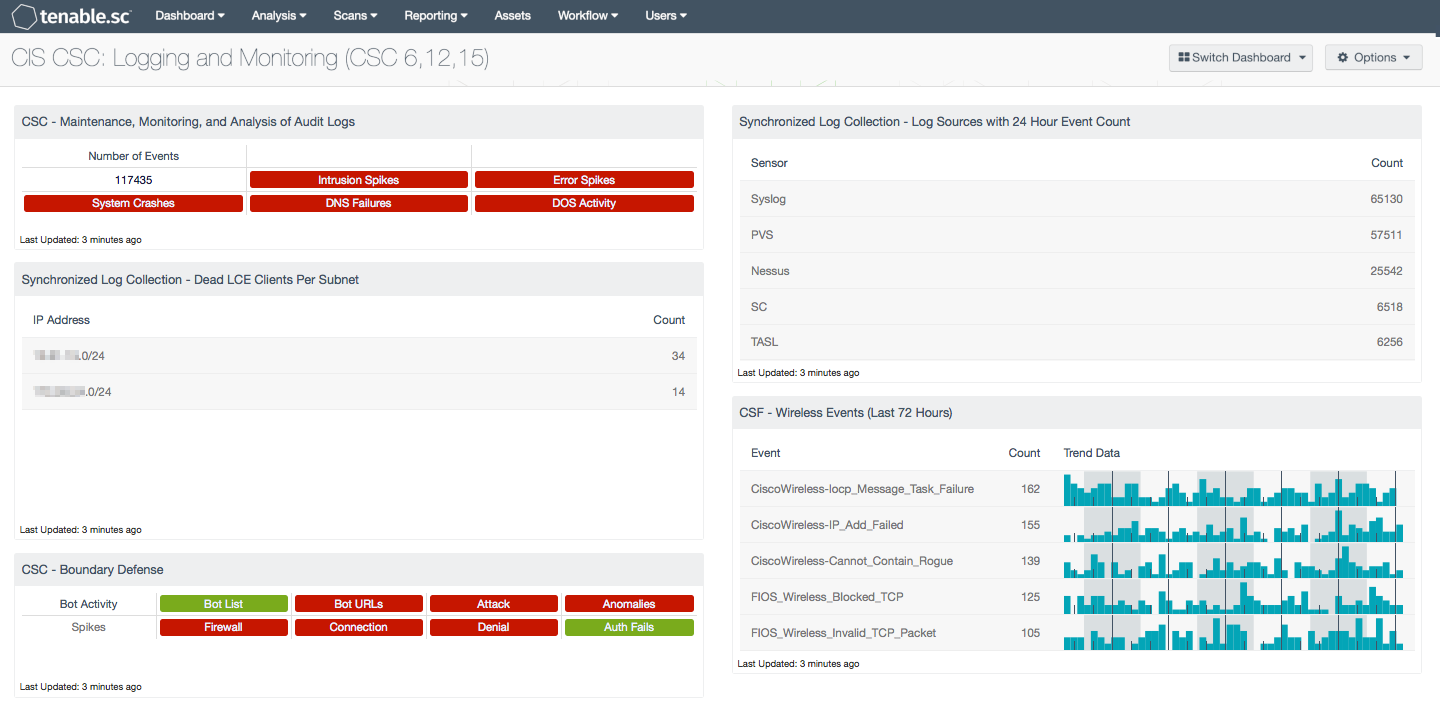 Monitoring of system logs is critical in reducing the potential of data compromise as logs contain alerts events, and historical data. This dashboard provides details and information on logging and monitoring efforts, and can aid in improving vulnerability management within the organization. The data presented aligns with CIS CSC Controls 6, 12, and 15.
As defined by the Center for Internet Security (CIS), the Critical Security Controls are a relatively small number of prioritized, well-vetted, and supported security actions that organizations can take to assess and improve their current security state. Developed based on specific knowledge of the threat environment and currently available technologies, the Controls are informed by actual attacks and effective defenses and reflect the combined knowledge of many experts. This dashboard aligns with CIS Critical Security Control 6 (CSC 6) Maintenance, Monitoring, and Analysis of Audit Logs; Control 12 (CSC 12) Boundary Defense; and Control 15 (CSC 15) Wireless Access Control.
This dashboard presents tables and indicators for events that if present on an organization's network can pose risk to the organization. Analysts can also use this dashboard to easily drill down into the data, which provides detailed information on events including log sources, wireless events, bot-net activity, event spikes, and others. Each of indicators on this dashboard provid a starting point to determine any further steps are required to identify an incident or track unauthorized activity. Knowing the details of these events can enable a better and more efficient vulnerability management practices within the organization. This information will help the organization prevent or minimize exploitation of network vulnerabilities, potential intrusions, attacks, and data loss.
This dashboard and its components are available in the Tenable.sc Feed, a comprehensive collection of dashboards, reports, assurance report cards, and assets. The dashboard can be easily located in the Tenable.sc Feed under the category Security Industry Trends.
The dashboard requirements are:
Tenable.sc 5.3.1
Nessus 8.5.1
NNM 5.9.1
LCE 6.0.0
Tenable's Tenable.sc Continuous View (CV) is the market-defining continuous network monitoring solution. Tenable.sc CV includes active vulnerability detection with Nessus and passive vulnerability detection with the Tenable Nessus Network Monitor (NNM), as well as log correlation with the Tenable Log Correlation Engine (LCE). Using Tenable.sc CV, an organization will obtain the most comprehensive and integrated view of its network vulnerabilities.
This dashboard includes the following components:
CSC – Maintenance, Monitoring, and Analysis of Audit Log - Displays a total for the number of Normalized Events seen over the past 48 hours. Also displays a matrix of log items that may be of importance, such as DOS events, DNS failures, error, system crashes, and firewall spikes.
Synchronized Log Collection – Dead LCE Clients Per Subnet - This component displays the count of hosts with 'dead' (unreachable) LCE Clients per class C subnet.
CSC – Boundary Defense - This component displays information on a series of plugins that detect bot activity or spikes in connection, authentication failures, and denials.
Synchronized Log Collection – Log Sources with 24 hour Event Count - This component identifies log sources and helps the organization ensure that all systems that can send logs are sending them to LCE and/or allowing NNM to scan them.
CSF – Wireless Events (Last 72 Hours) - The Wireless Events component displays a summary of normalized wireless events over the last 72 hours.