Nessus 6.2, released in January 2015, delivers new capabilities that increase flexibility and improve the experience of using the Nessus vulnerability scanner. This release also adds new platform support.
A complete listing of the new features can be found in the ChangeLog below. Highlights include:
Compliance Check Audit File Management
Users can now download previously uploaded custom audit files when editing an existing policy. This is useful, for example if different Nessus users need to create similar, but slightly different policies. They can now do so without having to manage .audit files outside of their Nessus environment.
Check Point and Blue Coat Compliance Plugin Updates
The compliance plugin for Check Point is updated so it can be used in offline mode. This eliminates the need for Nessus to directly access the firewall as you will upload the configuration and the associated audit file to Nessus. This provides another way to get the same results without having to run Nessus scans against your network devices directly.
In addition, a new plugin is available for Blue Coat that can be used in either online or offline mode.
Altiris Support
Package reporting for Red Hat Enterprise Linux and SUSE Linux is now added to Nessus' Altiris patch management integration, in addition to existing support for Microsoft Windows.
Disable Schedule Scans
Users can now disable a scheduled scan through a simple button on the interface, a quick and easy way to temporarily stop a scheduled scan.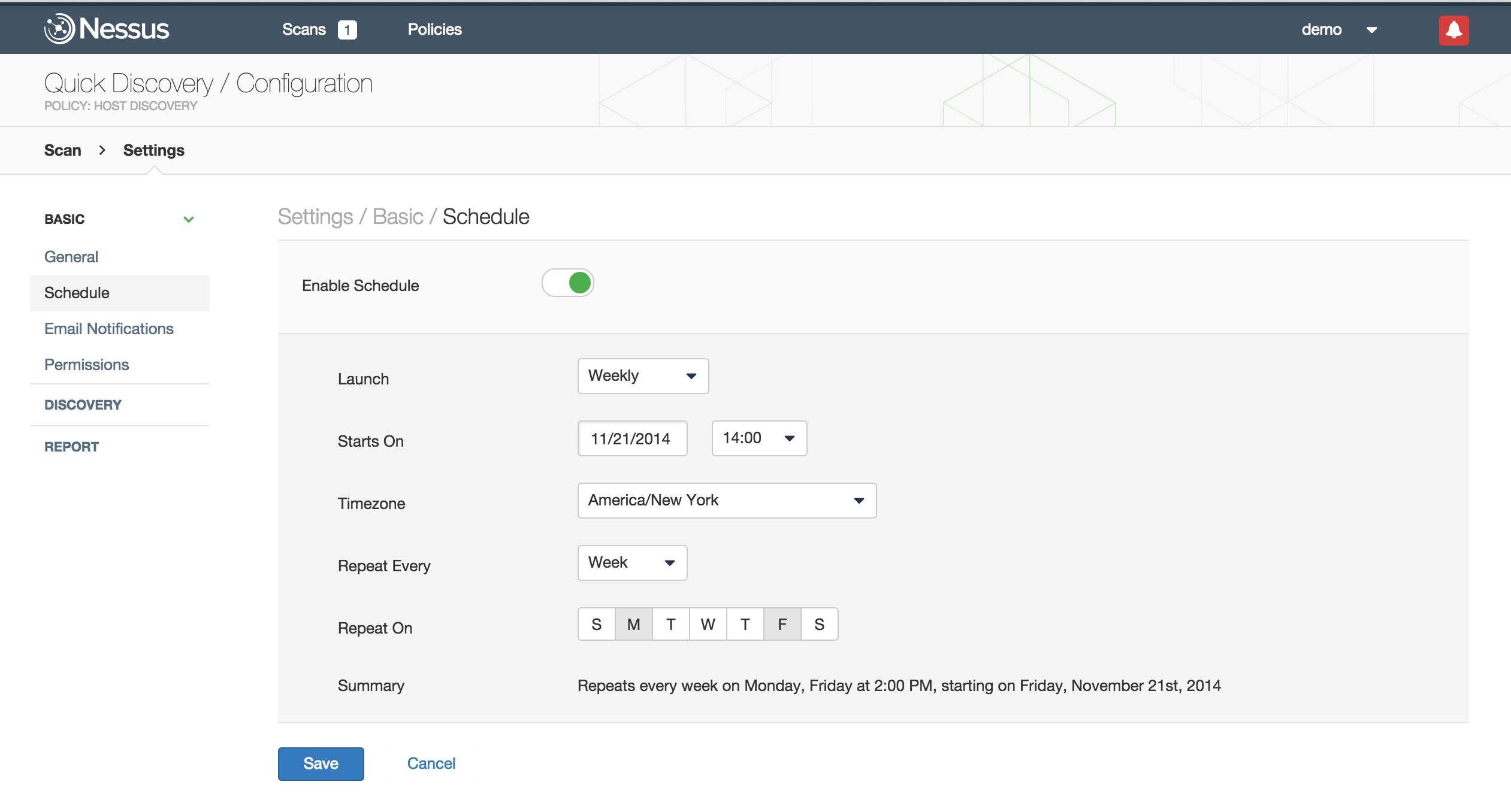 New Search Capability for Credentials and Compliance
A new search box enables quicker search for credential types and available compliance checks when using the scan/policy editor. The pick list options are still available.
Improved Notifications Interface
The notifications interface is enhanced with new graphics, including a color-coded notifications history that makes it easier to review errors or issues related to running scans or scanner configuration.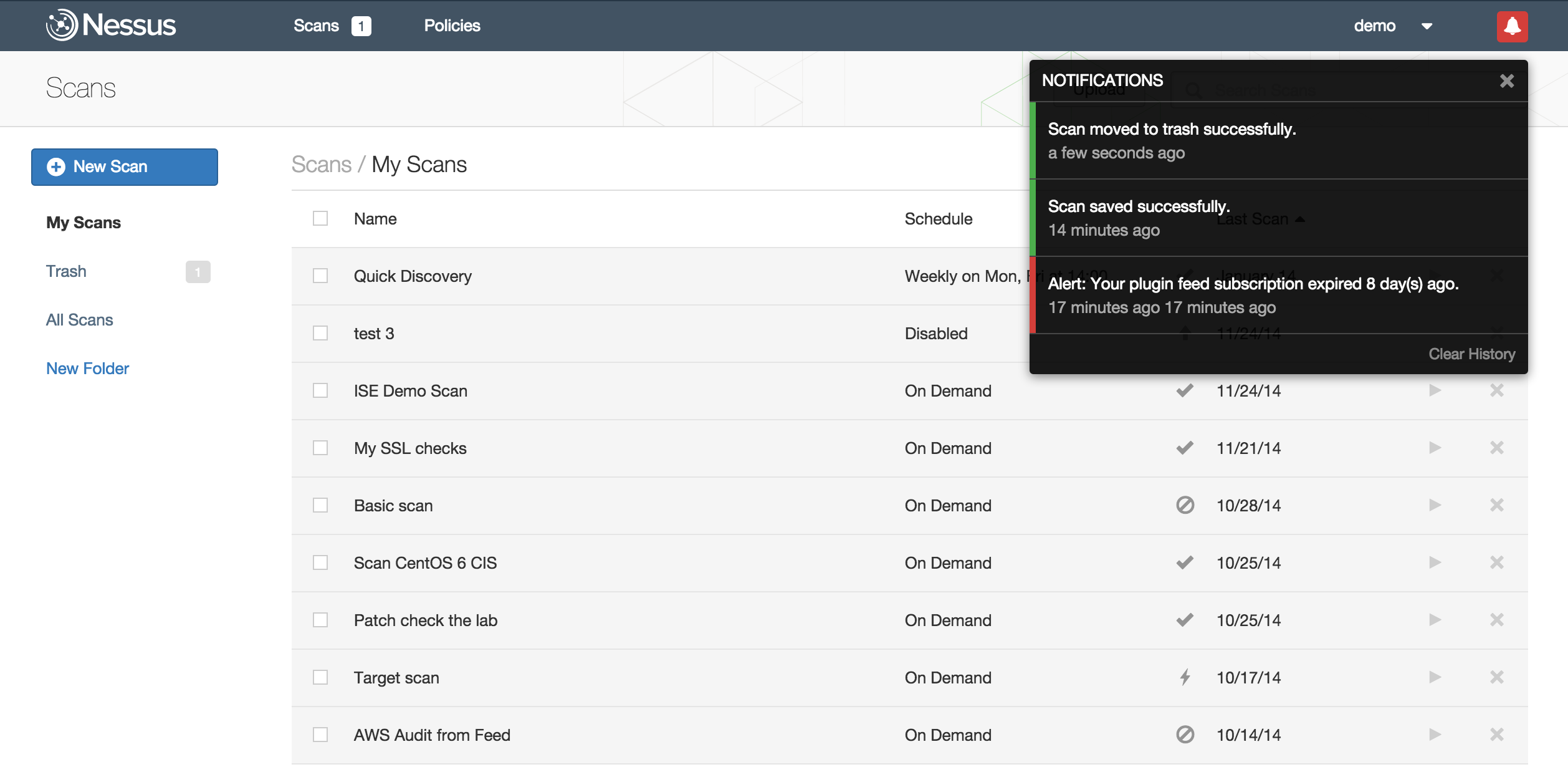 Architecture and Platform Support
Nessus 6.2 includes new architecture and platform support:
i386 (32-bit) Linux and Windows platforms
Mac OS X 10.10 (Yosemite)
Fedora 21
Changelog
Bug Fixes
Scans return with "No host data" after a plugin update
Blue Coat is missing from the compliance UI
Scheduled Jobs are not running, with no indication of failure or why they didn't run.
New Features, Improvements, Platform Support
Retrieve an uploaded compliance check audit file
BlueCoat and Check Point compliance wizard updates
Add package reporting for Red Hat Enterprise Linux and SuSE Linux to Altiris PM integration
Ability to Disable Scheduled Scans
Credential and Compliance search
Improved notifications UI
Nessus 6 available for i386 (32-bit) architectures
OS X 10.10 (Yosemite) support
Fedora 21 support
There is now one user guide for Nessus and Nessus Enterprise
Bug Fixes
Incomplete log message when stopping a scan
Bug Report Generator Issues
Double upload requests when manually uploading files
Incorrect restart reason can show up in logs
Bogus scan range causes scanner to scan non-specified targets
mkdir crashes on Windows
Sorting after search sorts on full data set
Scan history is not being purged when scan is deleted
Mixed plugin families are not saved correctly when filtering is used
Modal Window hangs after deleting a subset of policies
Some remote scans are aborted if being started just before a reload of the manager
nessuscli fetch --code-in-use writes to the root directory instead of the tmp directory
6.0.X won't automatically update to 6.1.2 on Windows
Race condition can allow scanner to set a "done" job back to "completed" and attempt re-processing
CentOS RPM depends on KILLALL being installed, which is not a default package in the CentOS7 minimal install
Multiscanner use proxy checkbox is not enabling proxy functionality with secondary scanners
Attachments in scan results cannot be downloaded
Make bug report generator help text clearer
Upgrading via MSI makes Nessus unable to be uninstalled or upgraded
FortiGate Best Pract check: Error 500 creating advanced policy in both advanced and offline config wizard
Various API errors reported on support forums