IDC ranks Tenable as #1 in worldwide Device Vulnerability Management market share for the third consecutive year
Want to eliminate blind spots across your entire attack surface, including traditional IT assets, operational technologies (OT), cloud services, Active Directory domains and web apps? This year's report highlights Tenable's ability to discover and prioritize more vulnerabilities across multiple attack surfaces.
Read the Excerpt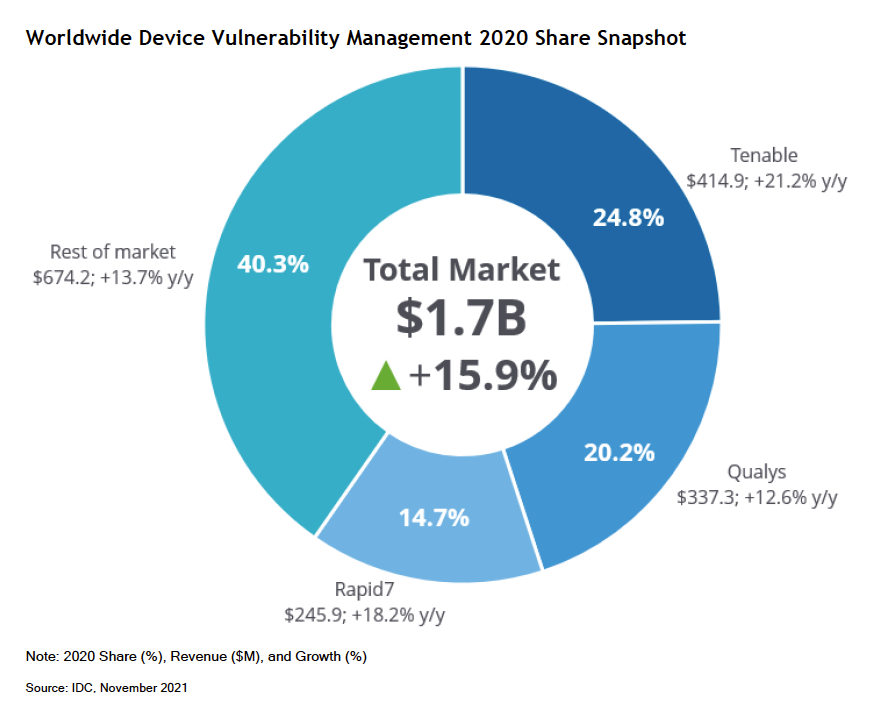 IDC recently published their Worldwide Device Vulnerability Management Market Shares, 2020: Addressing Multiple Attack Surfaces and Realizing Great Precision Through Prioritization Report to highlight the top worldwide Vulnerability Management vendors. In this report, you'll find:
A market share analysis of Vulnerability Management vendors in 2020
Vulnerability Management trends and market developments, with advice for technology vendors and consumers
Information about how top vendors are shaping the market with their product innovation and acquisition strategy
Analysis of the top three vendors who are shaping the VM market
"Scanning finds so many vulnerabilities that security teams are unable to remediate them in a timely manner. Systems that prioritize which vulnerabilities need to be fixed first based on the risk to the organization are going to win in the long run." - Michelle Abraham, Research Director, Security and Trust at IDC
Tenable ranks #1, for third consecutive year
Addressing

Multiple Attack Surfaces

IDC credits Tenable for extending its reach far beyond traditional IT scanning with solutions to scan IoT/OT devices, web apps, containers, cloud assets and Active Directory. Tenable's strong acquisition strategy and product innovation have ensured blind spots are eliminated and the entire attack surface is assessed.
Greater Precision

Through Prioritization

IDC calls out Tenable for providing risk scoring, cyber exposure visualization and benchmarking for vulnerability prioritization. With technologies to help customers determine their Vulnerability Priority Rating (VPR) and Asset Criticality Rating (ACR) and more, Tenable ensures customers know which vulnerabilities to focus on first.