IDC ranks Tenable as #1 in worldwide Device Vulnerability Management market share for the fourth consecutive year
Want to eliminate blind spots across your entire attack surface, including traditional IT assets, operational technologies (OT), cloud services, Active Directory domains and web apps? This year's report highlights Tenable's ability to discover, assess and prioritize more vulnerabilities across multiple attack surfaces onto a converged Exposure Management platform.
Read the Excerpt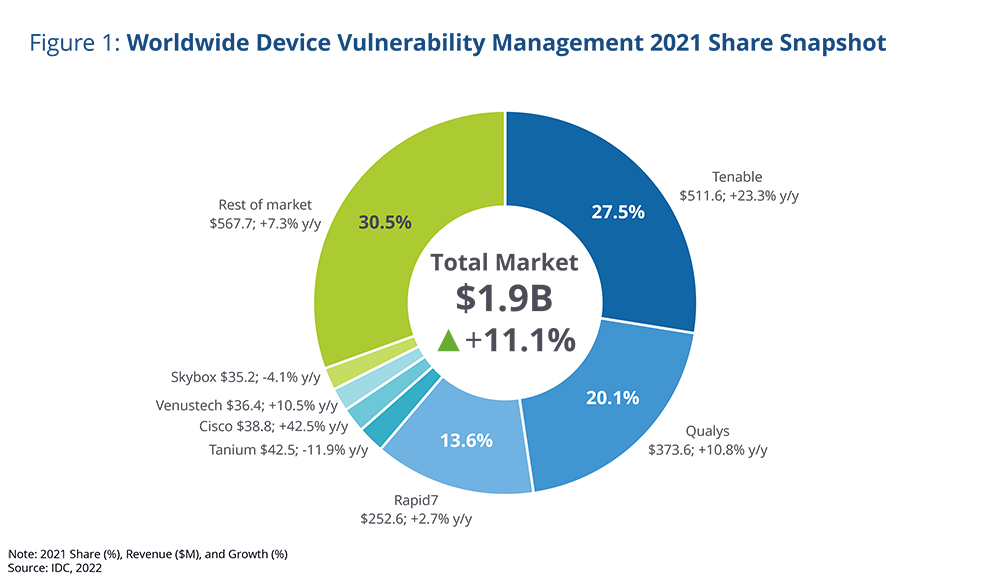 IDC recently published their Worldwide Device Vulnerability Management Market Shares, 2021: "The Stakes Are High" (doc #US48506622, December 2022) to highlight the top worldwide Vulnerability Management vendors. In this report, you'll find:
A market share analysis of Vulnerability Management vendors in 2021
Vulnerability Management trends and market developments, with advice for technology vendors and consumers
Information about how top vendors are shaping the market with their product innovation and acquisition strategy
Analysis of the top three vendors who are shaping the VM market
"Going even further, vendors are bringing in cybersecurity asset management, attack path modeling, and threat intelligence to provide a powerful solution for proactive security all in a single platform." - IDC Worldwide Device Vulnerability Management Market Share, 2021: The Stakes Are High
Tenable ranks #1, for fourth consecutive year
A Unified View


of Your Modern Attack Surface

IDC credits Tenable for creating an Exposure Management platform providing a unified view of all assets and associated software vulnerabilities, configuration vulnerabilities and entitlement vulnerabilities, whether on-prem or in the cloud, to understand where you are exposed.
Gain Visibility


and Eliminate Attack Paths

IDC recognized Tenable for providing attack surface management and attack path analysis capabilities as part of an Exposure Management platform. With the ability to assess the security posture of your entire external attack surface and visualize attack paths to prioritize actions, you can pre-emptively focus response to remove the paths attackers may take.