Analyst Research
Frost & Sullivan Growth Excellence Leadership Award 2018
From vulnerability management to Cyber Exposure. Tenable is transforming the way you manage, measure and reduce cyber risk.
As part of its ongoing research, Frost & Sullivan identifies companies that maintain consistently high standards for delivering customer value, which translates into growth above the industry average. This year, Frost & Sullivan recognized Tenable as one of those rare companies.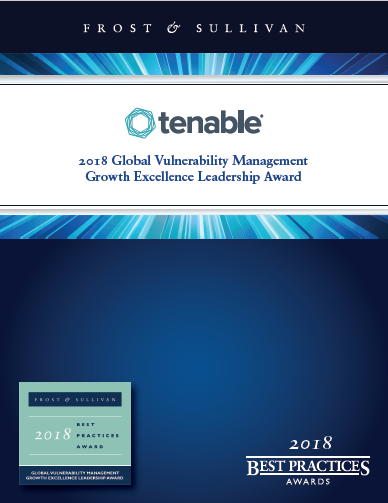 You can learn why Frost & Sullivan named Tenable its 2018 Growth Excellence Leader in the Vulnerability Management Market by reading this report, which highlights factors contributing to Tenable's success, notably:
The pioneering decision to move beyond traditional vulnerability management into the new discipline of Cyber Exposure and its focus on risk-based prioritization and benchmarking.
Expanded asset coverage and depth of visibility – Tenable now provides the industry's most comprehensive visibility across traditional and modern assets, such as cloud, mobile devices, containers and web applications.
An innovative product strategy that encompasses on-premises solutions and a growing and tightly integrated portfolio of SaaS products.
Tenable's Industrial Security offering and patented passive monitoring capabilities that help secure critical infrastructure and operational technology (OT) systems.

Click on the Read Now button to get your copy.