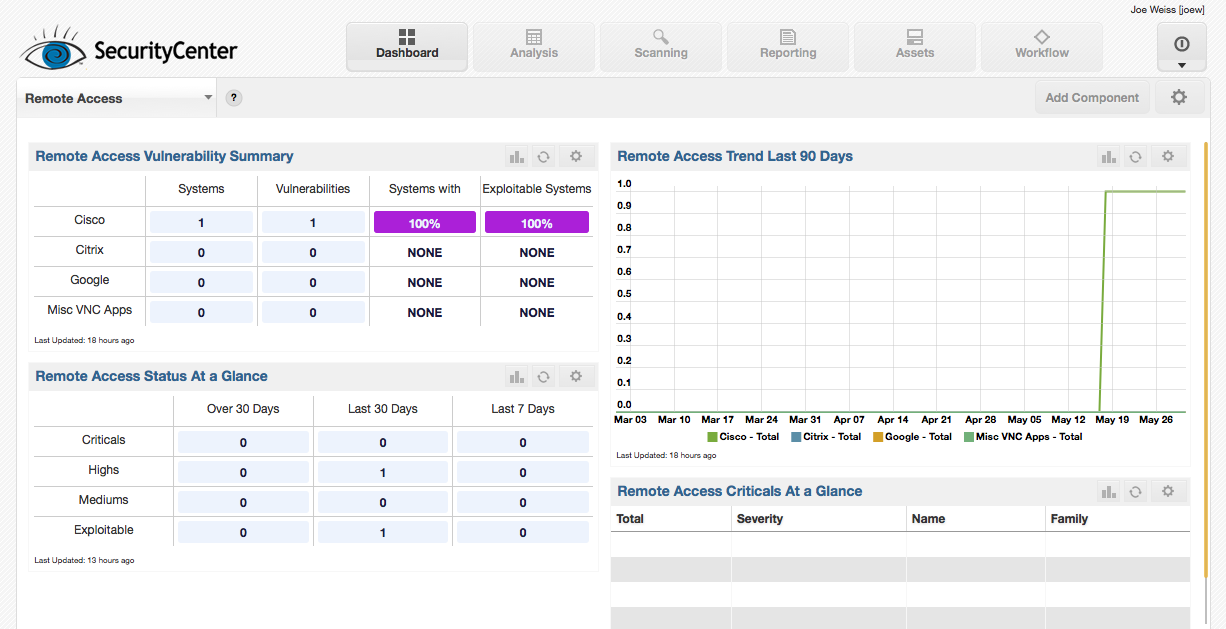 This dashboard enumerates known Remote Access Vulnerabilities, such as Cisco AnyConnect, Citrix GoToAssist, and Symantec PCAnywhere. The dashboard displays information for enforcing and verifying IT management policies relating to assets, such as vulnerability, configuration and remediation policies.
SecurityCenter (via PVS, LCE, and Nessus) collects information about installed products, identifies those products using standardized industry methods, and presents that information via this dashboard.
The corresponding report can be found at Remote Access Vulnerability Report
Component Description
The following components have been developed to provide a quick visual representation of the number of systems certain applications are installed on, the number of vulnerabilities, ratio of vulnerable systems, and percentage of systems that are currently exploitable. Vulnerability Trend displays application vulnerabilities over the last 90 days. The two remaining components provide a fast; at-a-glance summary that really puts how the organization stands into a quick perspective, continuing the format of quick visual data presentation without having to drill down to get into it. All fields are clickable for a deep dive analysis into the presented data.
Vulnerability/Exploitability Indicator Panel - This component displays various defined technologies by row, and enumerates any found vulnerabilities across the columns. Presented is the number of systems on which the technology has been located, the number of identified vulnerabilities, the ratio of vulnerable systems, and the count of how many are exploitable.
Vulnerability Trend - This component tracks a trend of the number of vulnerabilities by installed application over the last 90 days.
Status at a Glance - This component gives a quick visual status report on patching efforts. The number of critical, high, and medium vulnerabilities is displayed across three columns, as well as the number of days they have been detected. Represented are known vulnerabilities that have existed for: Over 30 Days, the Last 30 Days, or the Last 7 Days.
Criticals at a Glance - This component displays the most critical vulnerabilities in a text format for a fast, readable reference without having to do a deep dive.