Nessus Enterprise Cloud
Nessus Enterprise Cloud enables sharing of vulnerability scanning resources across your IT, audit and security team members, quarterly external PCI ASV scans and perimeter scanning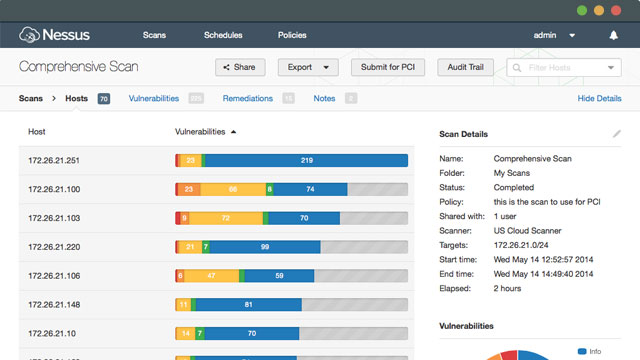 Nessus Enterprise Cloud
Nessus® Enterprise Cloud is a collaborative enterprise vulnerability scanning solution hosted by Tenable. Nessus Enterprise Cloud enables remote, cloud-based management and sharing of multiple Nessus scanners, scan schedules, scan policies, and, most importantly, scan results. It is easy to share vulnerability and compliance information with users and groups: administrators, security analysts and risk & compliance auditors. Users are able to access detailed vulnerability scan results through a single console, as well as access all Nessus scanners, policies and schedules. Users may also perform external scans of their Internet-facing IPs for network and web application vulnerabilities.
Perform Quarterly External Scans for PCI
Tenable's Nessus Enterprise Cloud can also be used to provide quarterly network scans to fulfill PCI external scanning requirements. Nessus Enterprise Cloud is a PCI-Certified Approved Scanning Vendor (ASV) solution.
External Network Vulnerability Scanning
See an attacker's view of your public network: Unleash the world's largest library of vulnerability and configuration checks with  Nessus Enterprise Cloud to scan an unlimited number of Internet-facing IP addresses for network and web application vulnerabilities, as often as you like.
Web Application Vulnerability Assessment
Nessus Enterprise Cloud provides the full spectrum of vulnerability enumeration including web server vulnerabilities, both known and unknown web application vulnerabilities and even configuration auditing of your web application platform.
PCI Approved Scanning Vendor (ASV)
Use Nessus Enterprise Cloud to provide quarterly external network vulnerability scans to satisfy PCI DSS requirements. Tenable's Nessus Enterprise Cloud is a PCI-certified Approved Scanning Vendor (ASV) solution. (Certificate #: 5049-01-03)
Resource Sharing
Nessus Enterprise makes it easy to control access to multiple scanners, scan schedules, scan policies, and scan results. Resources are available for sharing among users and groups responsible for security and numerous regulatory or compliance drivers regardless of location, and network complexity.
New User Levels
Nessus Enterprise allows for the addition of multiple users and provides four user roles: Read-Only, Standard, Admin, and System Administrator. Users can be managed individually or User Groups can be established based on departments, duties, or geography – whatever works fits your specific needs.
Grows as You Grow
Extend scanner coverage as your organization grows by connecting additional Nessus scanners to Nessus Enterprise Cloud. Organizations with multiple Nessus scanners for different network segments and geographical locations can control all their scanners from one remote location.
Complementary Solutions
Nessus® Vulnerability Scanner
Nessus is the industry's most widely-deployed vulnerability, configuration, and compliance scanner. Nessus features high-speed discovery, configuration auditing, asset profiling, malware detection, sensitive data discovery, patch management integration and vulnerability analysis. With the world's largest continuously-updated library of vulnerability and configuration checks and the support of Tenable's expert vulnerability research team, Nessus sets the standard for speed and accuracy.
SecurityCenter™
SecurityCenter Continuous View is the only integrated vulnerability, threat and compliance management solution on the market that combines data from vulnerability assessments, asset information, network sniffing and activity event logs. This capability provides crucial context that no other solution can provide, improving vulnerability management, threat detection, incident response time and accelerating forensic analysis.