Nessus Plus
Use Nessus & PVS Together for Comprehensive Scanning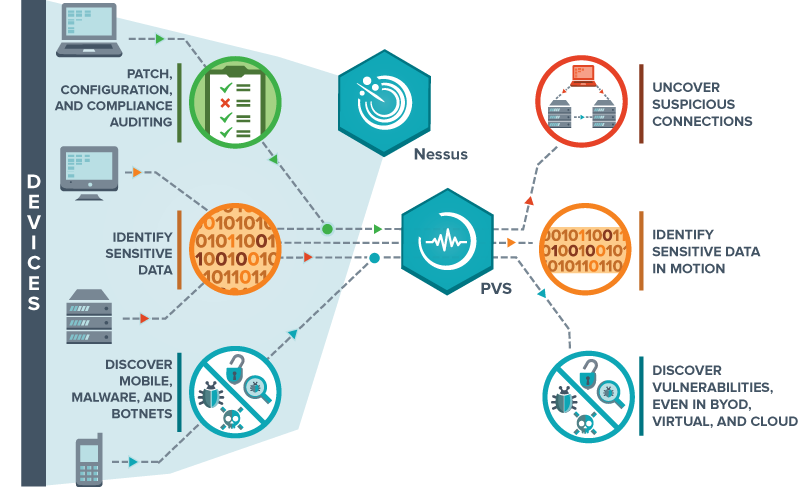 Tenable is helping organizations address today's fastest growing security challenges by introducing "Nessus Plus". This package delivers two essential tools for comprehensive scanning, Nessus® and Passive Vulnerability Scanner™ (PVS™). When used together, customers get the industry standard active scanner, Nessus, along with the patented real-time passive scanner, PVS, to provide continuous evaluation of their network.
With more than 10 million downloads to date, Nessus is trusted by more professionals for network vulnerability, configuration, and compliance assessment. PVS continuously uncovers hidden vulnerabilities and compliance violations in real time, and provides full asset discovery of BYOD and virtual systems.

With a rich 15-year history, Nessus is the industry's most widely deployed vulnerability, configuration, and compliance assessment product. Nessus provides high-speed asset discovery and profiling, patch/configuration/compliance auditing, sensitive data discovery, patch management integration, and so much more.
Key Nessus features:
Agentless auditing of configurations, patches, and web applications
58,000+ vulnerability and configuration checks (plugins) – new plugins updated daily
Lists BYOD/mobile devices accessing the corporate network, device information, and vulnerabilities
Audits the VMware platform and software running on it
Detects malicious processes and botnets
Automatic post-scan analysis and customized monitoring

Now available as a standalone product, Passive Vulnerability Scanner identifies security and compliance violations in BYOD, cloud, and virtual infrastructures. With its unique packet-level continuous scanning capabilities, PVS 4.0 delivers vulnerability discovery benefits to a wide customer audience.
Key PVS features:
Vulnerability assessment, including BYOD, virtual devices, and cloud
Full asset discovery, including transient components
Detect applications and services used in real-time
Analyze trust relationships between client and servers
Effectively scan without credentials
Provide contextual data on all encrypted traffic, not just SSL
Detect content sensitive data traversing the network
Contact a Tenable Authorized Partner
Ask for this limited-time Nessus Plus introductory offer
Find a Partner